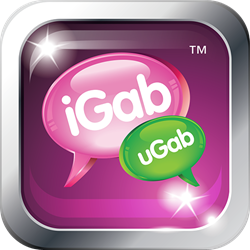 Modern Messaging.
Hamburg, Germany (PRWEB) September 26, 2013
In today's competitive startup market, companies must continuously find creative ways to co-operate with partners or find sponsors. GeGekko is pleased to announce that in its ongoing search for support for its iGab voice messenger app, it has found two new co-operation partners/sponsors. Yvonne Stein The Art of Grafik has been instrumental in designing advertising materials for iGab. She provides a wide range of design and print consulting services and has helped iGab to shine in marketing campaigns. "We are deeply impressed by not only the quality of Yvonne's work, but also her dedication to our iGab app. Winning her as a co-operation partner has helped us to make strides towards getting our message out," stated GoGekko Co-founder Sabine Hutchison-Leidel.
"We also have Yvonne Stein to thank for introducing us to Absolut Digital, who are world-class printers in Hamburg Germany. Their support of us in preparing print material for a recent conference and their belief in our concept has also been exceptional," stated GoGekko Co-founder Claudia Neumann. Absolut Digital offers a complete range of professional printing services using the latest printing technology. Their creative energy makes them a perfect fit to the GoGekko team.
"Despite promoting an international product with our voice messenger app, we once again have seen the value of local support. We will continue to expand these efforts in the future," stated GoGekko Co-founder Kathryn Hagedorn
About GoGekko GbR
GoGekko GbR is a woman-owned mobile app development company based in Hamburg, Germany. iGab, GoGekko's first 3D voice messenger iOS app available on iTunes, was created to provide a fun and personalized way to send mobile messages, without being manually typed. iGab combines the user's voice with a video animated 3D character to create a one-of-a-kind visual message.
iGab brings mobile messages to life.