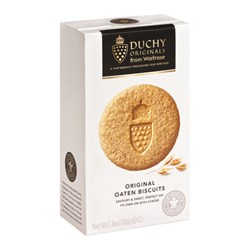 Hauppauge, NY (PRWEB) September 24, 2013
This September, Duchy Originals from Waitrose, the all-natural shortbread and biscuits brand founded by HRH Prince Charles, will celebrate its 21-year anniversary. This milestone will be commemorated at Natural Products Expo East at the Baltimore Convention Center from September 26-28 where Duchy will exhibit with Walkers Shortbread at booth #1137. The very first Duchy product, the Oaten Biscuit baked by Walkers Shortbread, went on sale in 1992. Since then, over $17 million has been raised for charitable causes worldwide.
The Duchy Originals U.S. product line comprises four distinctive varieties that are ideal for both everyday and formal entertaining. These include the savory Original Oaten Biscuits and three shortbreads: Highland All Butter Shortbread, Lemon Shortbread and Stem Ginger Shortbread.
"Each Duchy product follows the Good Food Charter in that every product 'Is Good,' 'Does Good,' and 'Tastes Good'," explained Steve Dawson, President of Walkers Shortbread, Inc. "We're delighted and honored to celebrate 21 years of offering consumers elegant and traditional indulgences that are also kind to the environment."
All Duchy shortbread and biscuits are made with the finest natural ingredients produced using sound animal husbandry and traditional crop rotation. Duchy ingredients include no genetically modified organisms (GMOs), are OU Kosher and suitable for vegetarians, and no antibiotics or bovine growth hormones are used to produce the butter used in Duchy recipes.
To learn more about Duchy Originals and taste their distinctive shortbread and biscuits, please visit booth #1137 at Natural Products Expo East. Visit Duchy Originals online at http://www.walkersus.com/duchy.
---
About Duchy Originals
Duchy Originals was founded by HRH The Prince of Wales in 1992 to promote organic food and farming and to help protect and sustain the countryside and wildlife. Today, in partnership with Waitrose, it is one of the U.K.'s leading organic and sustainable food companies, producing a range of over 250 products from biscuits to preserves and gifts to garden seeds. A donation from the sale of Duchy Originals products is given to The Prince of Wales's Charitable Foundation. More than $3 million is raised annually in this way for distribution to charitable causes all over the world. Duchy Originals from Waitrose shortbreads and cookies are baked by the world famous Walkers Shortbread in the Scottish Highlands.