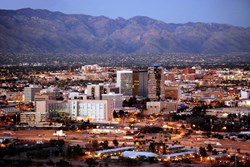 The future of Tucson is high-tech. We wanted to be closer to the technology people … so it made sense to move downtown.
Tucson, Arizona (PRWEB) September 25, 2013
As a burgeoning provider of cloud business collaboration applications and a host of digital business intelligence and communication tools, BizAnytime is all about innovation. That is why the company's move to downtown Tucson, where organizations such as Startup Tucson and Gangplank are spurring growth in the IT sector, makes so much sense. BizAnytime offers a valuable addition to a vibrant location enabling success in its expanding local business community.
Downtown Tucson has become a center for innovation and growth in recent years, attracting investors, entrepreneurs and innovators from around Arizona and the nation. BizAnytime's downtown move puts the company in close proximity to incubators, accelerators, and coworking facilities such as Gangplank, which offers a collaborative workspace and resources where creatives can work, share knowledge, and explore ideas without financial or physical barriers. Also nearby is the cooperative Startup Tucson, which enriches the ecosystem of startups in the area by organizing educational events, workshops, networking meetups and social gatherings, and by generally supporting the budding IT business community. BizAnytime's innovative software solutions, which allow remote workers to collaborate and share information through a cloud-based data storage system, are ideal for these types of creative minds and entrepreneurs.
With University of Arizona's recent move to downtown and continued improvements such as new streetcar lines and other modernization projects, it's clear that downtown Tucson is becoming more of a hub for innovation and growth. The BizAnytime team looks forward to finding inspiration from other growing tech startups and IT companies on the cutting edge of technology in the area. This move will create synergy for BizAnytime and the entire downtown Tucson business hub, allowing greater collaboration among firms in this rapidly growing area.
About BizAnytime:
The BizAnytime cloud-based collaboration system provides advanced tools for project management and cooperation among colleagues, clients and vendors. The company offers a range of bundled services starting at $10 per month, including the following:

Shared workspaces
Project and task management tools
Ongoing discussion feeds
Chat programs
File storage and sharing functions
Document and project collaboration
Video conferencing tools