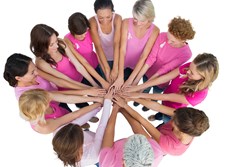 All of us have been touched at some level by this often deadly disease.
Commack, Long Island, New York (PRWEB) September 25, 2013
In recognition of National Breast Cancer Awareness Month, Hands On will be offering complimentary Aromatherapy Enhancements for all women with any type of massage.
"All of us have been touched at some level by this often deadly disease," states Barbara Kontonotas Office Manager at Hands On. "We are excited to be offering Aromatherapy to women in order to help them reduce their stress."
Aromatherapy has shown to help both the mind and body. Headaches, back pains, premenstrual syndrome, and digestive disorders are all relieved through aromatherapy massage.
Statistics show that 1 out of 8 women in the United States will develop invasive breast cancer over the course of her lifetime. Since two of the biggest risk factors are being female and getting older, no woman can ignore this disease.
The facts:
1.) It is estimated that in 2013, there will be 232,340 new cases of invasive breast cancer in the United States. 
2.) Breast cancer is the most common cancer in women, worldwide.
3.) Risk factors include beginning to menstruate before age 12; starting menopause after age 55; never being pregnant; having a full-term pregnancy after age 30; obesity after menopause; physical inactivity and alcohol use.
4.) Early detection of breast cancer greatly increases the chances of survival.
5.) Regular mammogram screenings, specifically for 50 to 69-year-olds, lowers the risk of dying from breast cancer by 10 to 23 percent.
Breast Cancer affects the body in many ways that can be painful and unpleasant. A weekly oncology massage can become part of the patient's lifestyle that is both pleasurable and something to truly look forward to. Touch is one of the most powerful things that we as human beings have at our disposal. The power of touch can not be taken lightly. It can be used to soothe and provide comfort to those feeling uneasy as well as helping them get through a challenging time. Working Through Chemo can be very tough on the body and mind. Oncology massage can help reduce pain perception by up to 60%. Breast cancer patients in particular, have shown a great response to the positive effects of massage therapy. Stimulation of the lymphatic system has been shown to increase immune function and white cell count. Long and most times stressful medical procedures put a lot of strain on the body. Patients may feel apprehensive about all of the new things going on about them and, as a result, will feel tense. Scheduling a weekly oncology massage can greatly reduce muscle tension.
Hands On has many Licensed Massage Therapists that have taken additional oncology massage courses in order to work with the cancer population. Hands On Healthcare Massage Therapy was chosen as a Recommended Community Provider by Memorial Sloan - Kettering Cancer Center.
Hands On HealthCare Massage Therapy and Wellness Day Spa has been serving the Commack Community since 2000. Hands On HealthCare Massage Therapy is a recognized leader in Advanced Medical Massage in Suffolk County, Long Island. Medical Massage is often the answer regarding pain, injury and disease. Hands On offers Pre-Natal and Post-Natal Massage, Sports Massage, Trigger Point Therapy, Myofascial Release, Manual Lymph Drainage and is a recommended community provider for Memorial Sloan-Kettering Cancer Center. The Spa Services Division offers spa treatments such as facials, skincare, microdermabrasion, body treatments, permanent makeup and para-medical cosmetics and cellulite reduction through ultrasound cavitation (Cavi-Lipo). The Wellness Day Spa has an extensive Couples Massage Spa Date Menu. Spa Parties are a specialty. An array of services and packages are available for both on and off-site. Beyond the Spa Services include off-site on-site workplace of event Mobile services which include bringing the day spa to the doorstep at home, venue or corporate function. Common events include bachelorette parties, showers, birthdays, Bar and Bat Mitzvahs, Sweet 16 Corporate Events and functions. Hands On HealthCare Massage Therapy claims its licensed massage therapists and estheticians provide clients with the ultimate experience in attention, service and care.
Hands On HealthCare Massage Therapy and Wellness Day Spa
Marla Kaplan-Pelle, Licensed Massage Therapist, Certified Lymphatic Therapist, Director
208 Commack Road, Commack, NY 11725
631-462-4263