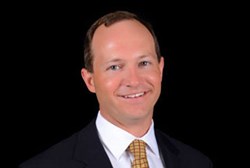 Houston, TX (PRWEB) September 26, 2013
Ben Pisklak, Chief Investment Officer for Gables Residential, a leader in the management and development of multifamily apartment and mixed-use communities, is selected for the prestigious Houston's "40 Under 40" Award. Ben was recognized as one of the top 40 business achievers in the city of Houston under the age of 40 by the Houston Business Journal (HBJ) for 2013.
After evaluating more than 300 nominees submitted for this year's recognition, the select group of judges for the HBJ picked this year's all-star class of 40 Under 40 honorees. The HBJ was seeking those that are the best and the brightest in the business community who are dedicated to their profession and contribute to both their community and industry overall.
Ben has over 12 years of experience with Gables and has responsibility for the development and acquisition activities of the company. During his tenure with Gables, he has been involved in the development and acquisition of over 8,500 apartments and 300,000 square feet of retail. In addition, he is on the Board of Directors for the Upper Kirby District, Boys and Girls Country, Candlelighters (a childhood cancer awareness program) and co-leader of Rebuilding Together Houston-Chaplewood. He is a Certified Public Accountant and a cum laude graduate of Texas A&M University with a BA and an MS in taxation.
All honorees will be recognized at a formal event in Houston in October and in a special edition of the HBJ. "Ben is an incredible industry leader, mentor and community supporter. We are very proud to have Ben on our team and pleased to see that his hard work and dedication, to both his profession and the community, is recognized by others," stated Sue Ansel, CEO for Gables Residential.
About Gables Residential
Gables Residential is an award-winning, vertically integrated real estate company and privately held REIT specializing in the development, construction, ownership, acquisition, financing and management of multifamily and mixed-use communities. Gables manages approximately 35,000 apartment homes and 500,000 square feet of retail space in high growth markets throughout the United States, including Atlanta, Austin, Dallas, Houston, South Florida, Southern California and metropolitan Washington, D.C. The company has received national recognition for excellence in development, management, sales, marketing, training, benefits and corporate accommodations. These achievements reflect the impact of the company's experienced and dedicated team members, superior knowledge of the markets served, and expertise in development and management.