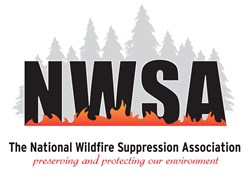 "In Oregon over 40 percent of the fire resources are from the professional private fire industry," said Debbie Miley, executive director of the National Wildfire Suppression Association.
Lyons, OR (PRWEB) September 25, 2013
As wildfires ravaged the west in 2013, the members of the National Wildfire Suppression Association that work under the IFCA Crew Agreement played a large role in assisting the agencies in containing wildfires on land managed by Oregon Department of Forestry and other agencies.
"Having these trained crews available, fully equipped and ready to be at a fire within short notice, is a very valuable resource for government," said Cindy Beck, the Oregon Department of Forestry's (ODF) contract services unit coordinator. "Due to the large fire activity in Oregon this year the crews exceeded the normal 14-day assignments, and continuously received favorable performance reviews."
According to Oregon Department of Forestry these private contracted crews logged in over 3,214 days on 30 fires in ODF's jurisdiction this summer. They also assisted on fires in seven western states.
"In Oregon, well over 40 percent of the fire resources that are available come from the professional private fire industry," said Deborah Miley, executive director of the Lyons, Oregon-based National Wildfire Suppression Association. "These resources provide a highly qualified and trained workforce that has a shared goal to complete the mission and ensure that all of our firefighters go home."