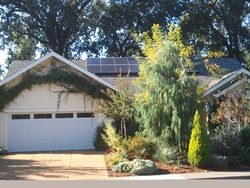 Offering Solar Financing Solutions in all 50 States.
Calistoga, CA (PRWEB) September 24, 2013
Residential solar panels are being welcomed to the neighborhood in record numbers, as the average cost to bring solar energy home continues to fall and the gap between leasing and purchasing solar energy systems has narrowed. A mix of federal solar tax credits, state subsidies, manufacturer rebates and solar installation loans have helped drive record sales and consumption of solar power.
The average installed price of residential and commercial solar photovoltaic (PV) systems fell between 6-14% in 2012 depending on regional U.S. pricing, according to Tracking the Sun VI, a study released in July 2013 by the U.S. Department of Energy Lawrence Berkeley National Laboratory(1). As hard costs decreased, consumer use of solar has increased; solar energy consumption in the first four months of 2013 is a third higher than the same period in 2012.(2)
"The economies of residential solar power make sense today, with homeowners benefitting from low cost energy and ROI delivered through solar panel installation," says Scott Cooper, President of Cal Green Lending, a company specializing in eco-friendly real estate finance. "The availability of new financing options has also fueled solar investment returns. In March 2013, we began helping facilitate unsecured financing for solar energy installations to our customers with excellent and substantial credit histories. Demand has been really strong for these loans, which are provided by LightStream.com, an online lending division of SunTrust Bank."
With average installation timelines at 126 days, Fall typically triggers the busiest months of the year as homeowners push to take advantage of annual tax credits and get ready for winter. The Solar Energy Industries Association (SEIA) reported a 2012 Q3 jump which triggered an increase in projects coming online in Q4, the largest quarter in U.S. solar market history. Sparked by that momentum, SEIA reports quarterly growth has continued in 2013,(3) good news for the 92% of Americans who feel it's important to use and develop solar energy capabilities.
"Public support, historic buying trends and lower system prices have set the stage for a record-setting yearend in the solar energy industry," continued Cooper. "New streamlined financing processes will allow approved borrowers to move forward quickly to purchase the system of their choice since they can obtain an unsecured loan at a competitive rate, in as little as a day."
2013 is tracking to be one of the strongest years of solar installation growth to date. Additional system and financing information can be found at http://www.calgreenlending.com/solarfinancing.
1. Tracking the Sun VI
2. U.S. Energy Information Administration
3. Solar Energy Industries Association (SEIA)