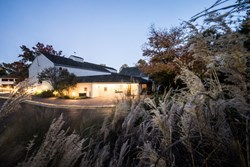 Vienna, Virginia (PRWEB) September 25, 2013
Dave Mason
Wednesday, October 2, 2013 at 8 pm
Thursday, October 3, 2013 at 8 pm
$35-$40
Former Traffic front man Dave Mason comes to The Barns at Wolf Trap for a lively performance that will have everyone "Feelin' Alright." Mason, who was born in England, was already performing professionally by his teens. In March 1967 he cofounded Traffic, an experimental rock band that released their debut album, Mr. Fantasy, in August of the same year. Mason wrote a variety of songs for the group, including their most famous hit "Feelin' Alright," which has been covered by artists such as Joe Cocker, Diana Ross, and the Jackson 5. In 1970 Mason released his first solo album, Alone Together, which gained success with the help of the hit single "Only You Know and I Know," a song that reached No. 22 on the Billboard Hot 100. Since then, he has released multiple studio and live albums, including 26 Letters, 12 Notes (2008), a hard-hitting rock album.
Video: Dave Mason — "Only You Know and I Know" (Live)
Battlefield Band
Friday, October 4, 2013 at 8 pm
$25-$27
The energetic Scottish quartet Battlefield Band is ready to showcase their original mix of traditional Scottish ballads and pub songs. The band is named after the Glasgow suburb of Battlefield in Scotland, where the four original band members met as students and formed the group in 1969. They released their debut album, Farewell to Nova Scotia, in 1976; their adventurous sound and eclectic combination of instruments including guitar, keyboard, fiddle, whistle, banjo, bouzouki, bodhran, Highland/small bagpipes, and bass guitar quickly made them icons in the folk scene. The group's new release, Room Enough for All (2013), contains songs covering topics ranging from returning to one's home country to Lawrence Tynes, the two-time Super Bowl-winning Scottish kicker for the National Football League. Battlefield Band won Best Live Act at the inaugural Scots Trad Music Awards in 2003 and Scottish Folk Band of the Year in 2011.
Video: Battlefield Band at The Queen's Hall, Edinburgh
Kris Delmhorst
Jeffrey Foucault
Saturday, October 5, 2013 at 7:30 pm
$22
Singer/songwriter Kris Delmhorst brings her "alternately moody, euphoric, and transcendent" (Los Angeles Daily News) music to The Barns at Wolf Trap. Raised in Brooklyn, New York, Delmhorst first played classical cello but shifted toward jazz and folk; she even learned how to play the fiddle and guitar during a stay in Maine. In 1996 she moved to Boston and released her first album, Appetite, three years later. After releasing an EP in 2000, Delmhorst received acclaim for her third record, Five Stories, which was bolstered by soulful and pleasing songs like "Mean Old Wind" and "Garden Rose." Her most recent release, Cars (2011), is a homage to the new-wave '70s and '80s band of the same name. In it, she switches between singing the original compositions and her own adaptations to create an "acoustic Americana makeover" (The Telegraph).
Folk maverick Jeffrey Foucault comes to The Barns at Wolf Trap with his "beat-up troubadour folk" (Uncut) and "stark literate songs that are wide open as the landscape of his native Midwest" (The New Yorker). Foucault, who hails from Wisconsin, began performing in the local coffee house scene in college before releasing his debut album, Miles From The Lightning (2001), a roots-rock record that drew on blues, folk, and country influences. He has delved into a multitude of both solo and group projects, including collaborations with his wife, Kris Delmhorst, and his most recent release, Calvacade, a sophomore album with blues-country band Cold Satellite. The album has been described as "imaginative and arresting" (The Guardian) and includes such songs as the country ballad "Glass Hands" and the stripped-down "Every Boy, Every Blood."
Video: Kris Delmhorst — "New Song"; Jeffrey Foucault — "One Part Love"
Tim O'Brien
Darrell Scott
Thursday, October 10, 2013 at 8 pm
$27-$32
Contemporary bluegrass pioneer Tim O'Brien showcases his astounding abilities as a multi-instrumentalist at The Barns at Wolf Trap. Called a "master of American folk music" by rock legend Mark Knopfle, O' Brien has orchestrated successful careers both as a bandleader and as a solo artist by bridging the gap between the genre's traditional and modern interpretations. His most recent solo album, Chicken & Egg (2010), highlights his range of music while also touching on themes of domesticity, moral juxtapositions, and broken hearts.
Country singer/songwriter Darrell Scott has written songs for artists like Garth Brooks, as well as the Dixie Chicks' Grammy-winning track "Long Time Gone." He has also released solo albums that showcase his skills as "one of the hottest guitar pickers on the planet" (AllMusic.com). Scott's latest projects include Long Ride Home (2012)—a warm, semi-autobiographical look of his life—and We're Usually a Lot Better Than This (2012), a live album with O'Brien that features top originals and Americana classics.
Video: Tim O'Brien & Darrell Scott – "Brother Wind"
The Wallflowers
Friday, October 11, 2013 at 8 pm
$50-$65
The band behind alternative roots-rock hits "One Headlight," "6th Avenue Heartache," and "The Difference" came together in 1990 with front man Jakob Dylan at the helm. Their second album, Bringing Down the Horse (1996), peaked at No. 4 on the Billboard 200 chart and earned two Grammy Awards. After a seven-year break The Wallflowers surged back into action in 2012 with the release of Glad All Over. This powerful rock 'n' roll collection features former Clash guitarist Mick Jones and is "one of their loosest, liveliest records that not-so-coincidentally is one of their best" (AllMusic.com).
Video: The Wallflowers – "Halo"
The Bobs
Saturday, October 12, 2013 at 7:30 pm
$22-$27
This San Francisco-based a cappella quartet transforms rock anthems into humorous and harmonious masterpieces. The group was founded by Matthew "Bob" Stull and Gunnar "Bob" Madsen in 1981 and was nominated for a Grammy Award for their cover of the Beatles' "Helter Skelter" just three years later. The Bobs have since released more than a dozen albums, including their most recent project, Biographies (2013). It is a hilarious homage to historical figures with original songs like "Julia's Too Tall," a hip-hop inspired tribute to Julia Child, or "Fidel's Fashion Manifesto" about Castro's attire.
Video: The Bobs – "White Room"
Tickets can be purchased by calling 1.877.WOLFTRAP or online at wolftrap.org.
For more information, call The Barns at Wolf Trap at 703.938.2404 or our general information line at 703.255.1900.
High-resolution images of the artists listed are available on Wolf Trap's website: wolftrap.org/Media_and_Newsroom/Photos_for_Publication.aspx.