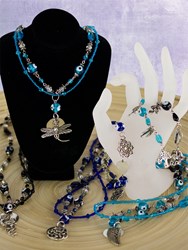 Colebrook, NH (PRWEB) September 25, 2013
Kheops International, one of the world's foremost wholesale suppliers of metaphysical, New Age and spiritual gifts, provides an extensive line of products for one-stop shopping. They strive to be the first choice for meaningful gifts and spiritual tools that comfort and aid body, mind and spirit.
Only the highest quality, specialty items from around the world are sold through Kheops. Customers are able to choose from the highest quality home décor, one-of-a-kind metaphysical tools, and other spiritual items.
Here is a small sample of the items Kheops International offers:
Stunning, embossed metal and leather journals with exclusive designs.
Handmade items from around the world, including hand hammered singing bowls and handcrafted volcanic stone statues
Stone pendants, sterling silver and copper jewelry
Home and garden décor designed to welcome peace and prosperity as they draw positive, harmonious energies into living and work spaces.
Kheops representatives travel the world, finding the finest quality merchandise to offer customers, and strive to continuously add exciting new items to their inventory.
The new direct retail sales capability allows anyone to purchase truly unique metaphysical products without the need for a retail license or minimum order requirements.
Kheops all-encompassing line provides exotic products to various markets including: Metaphysical, New Age, Buddhism, Wiccan and Pagan, general gifts, garden centers and more.