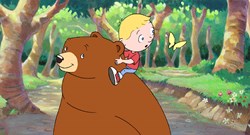 Our technology lets parents relax, knowing their child's screen time is appropriate
Toronto, ON (PRWEB) September 25, 2013
Foothill Entertainment and Kidobi have announced plans for a digital distribution partnership that adds several preschool series to the ground-breaking web-based SVoD platform. Foothill will be adding Animal Stories (52 x 5'), Barney (13 x 5'), Eddy the Bear (26 x 11'), Little Monsters (52 x 5'), Microscopic Milton (26 x 5'), and Zot the Dog (13 x 11') to Kidobi's extensive library of preschool content.
The content will become available in the coming weeks to subscribers in Canada and the U.S. on Kidobi.com as well as through Kidobi's mobile apps for iPad and Android devices.
"We're delighted to be working with Foothill Entertainment because we know our audience is going to love their programs," said Eric Sorenson, Director of Research & Content at Kidobi. "Our technology lets parents relax, knowing their child's screen time is appropriate. And with great content, such as these series from Foothill, we're putting smiles on the kids' faces, too."
"Kidobi is unique among digital platforms and their approach is very innovative," said Jo Kavanagh-Payne, President of Foothill Entertainment, who is also being featured in this year's Mip Junior Preview. "This partnership supports our goal of establishing the broad audience this great content deserves. In today's world that means having a strong presence online."
The announcement comes just ahead of this year's MIPCOM and MIP Junior markets in Cannes. At this year's market, Foothill Entertainment will be showcasing many exciting properties including Boy and the Dinosaur, which was the third most viewed show at MIPJunior last year.
NOTES TO EDITOR:
About Kidobi:
Kidobi is an award-winning, online preschool destination that creates tailor-made video playlists based on a child's age, interests and skills. Kidobi adapts to the child's skill level and preferences using technology developed with educators and child development experts. Kidobi's software will automatically create a personalized learning channel for your child that's ready 24 hours a day, seven days a week.
About Foothill Entertainment:
Founded in September 2000 by former DIC Entertainment Executive Vice President of Business and Legal Affairs, Gregory Payne, and Jo Kavanagh-Payne, former Link Television Entertainment, Inc. Senior Vice President of U.S. Operations, Foothill specializes in the co-development and distribution of children's and family entertainment programming. Their company is based in Santa Barbara, California. Foothill Europe is based in London.