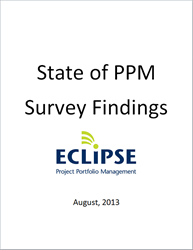 Toronto, Ontario (PRWEB) September 26, 2013
This State of Project Portfolio Management (PPM) survey conducted by Eclipse PPM contained brief multiple-choice questions, which were completed online by 64 respondents who came from a variety of job backgrounds and industries.
The survey delved into the project management capacity of each organization, represented by both the number of IT employees and the number of project managers on staff. The survey found that nearly one-third of organizations had 150 or more employees in IT and the majority had up to five project managers on staff.
The project and portfolio management structure within these organizations was also surveyed, revealing that although an organization may have a specific department or PMO for project and portfolio management, the overall decision making concerning their work is unlikely to sit with their department.
The level of Project Portfolio Management (PPM) knowledge was gauged along with where respondents most often sought information. It was determined that whilst respondents varied in their level of knowledge, nearly half stated that they had a good level of PPM knowledge and the most common source to which respondents turn to is the Project Management Institute (PMI).
Despite now having a plethora of information available to them about addressing PPM challenges, over 50% of respondents indicated that both managing resource capacity and planning, and managing project risks were still key issues. Additionally, each respondent indicated that they faced multiple challenges despite over half of the group already having a dedicated department for project management and governance and / or had already implemented a PPM tool.
Many respondents had recognized the need to improve their PPM practices with a PMO or tool, but found that these alone were not wholly successful without also implementing PPM processes and providing resources with more training. Both PPM processes and resource training were identified as the two top plans to overcome challenges. Despite this, there were a number of roadblocks also identified as to why they have not yet implemented these solutions. Not surprisingly, the number one reason given was due to a lack of budget, and the second was believed to be due to a lack of understanding about project portfolio management within the organization.
Overall, these results highlight that many of these organizations recognize the need for both a dedicated department for project management and governance, as well as the importance of a PPM tool. It also demonstrates that these two solutions will not solely address the common PPM challenges, but need to be paired with PPM processes and relevant training for resources.
For access to the full report and findings, you can download the report from the Eclipse PPM website.
About Eclipse PPM
Eclipse PPM is Project Portfolio Management tool designed to assist the Leadership Team, PMO Directors, Project Managers, Resource Managers and Resources to deliver better business results through improved project and portfolio visibility, project prioritization, resource management and risk management. The Eclipse PPM solution provides a combination of process, PPM software and partnership to deliver improved business results within 30 days.