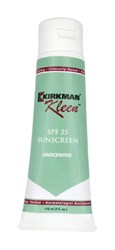 Kirkman's Hypoallergenic Sunscreen (SPF 25), regularly priced at $19.50, is now available for $9.75.
PORTLAND, Ore. (PRWEB) September 25, 2013
Summer has ended, but that doesn't mean it's time to put away the sunscreen and stop protecting your skin. In many parts of the country, sun and warm weather will continue.
Kirkman® is offering an exclusive discount on its Hypoallergenic Sunscreen (SPF 25). Now is a great time to stock up because not only is the product discounted 50 percent, but there is no limit to the amount that can be purchased and the product has no expiration date.
This proprietary product was specially formulated for those with sensitivities and is free of common irritants, such as perfume ingredients and Titanium Dioxide – an ingredient special needs individuals with compromised immune systems need to avoid. In addition, Kirkman's sunscreen utilizes the safest and most effective sun blocking agents available as well as a group of added ingredients that enhance the gentleness and skin conditioning qualities of the product.
Don't forget: it is important to protect your skin all year round. Snow actually reflects the sun, projecting it directly onto your skin, so it's important to lather up even when you are skiing or just spending a winter day in the mountains. In addition, many places all over the world haven't even started summer yet – making this a great opportunity to get a head start on one of the season's biggest necessities at a reduced cost!
Kirkman's Hypoallergenic Sunscreen (SPF 25), regularly priced at $19.50, is now available for $9.75. To take advantage of this limited-time promotion, head here to stock up today.
About Kirkman®
Kirkman® is the leading manufacturer of nutritional supplements for individuals with special sensitivities and dietary requirements. Founded in 1949, Kirkman® is also the oldest nutritional supplement company serving the special needs community. This experience has allowed Kirkman® to pioneer effective products in many areas of nutritional supplementation for individuals with special health needs. To learn more about Kirkman®, visit the company website at http://www.kirkmangroup.com.
Contact:
Kulani Mahikoa
V.P. Marketing
Kirkman Group, Inc.
Telephone: 503-694-1600