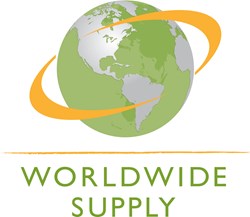 "We are honored to be recognized among some of the world's most well-known brands for this esteemed award," said Veronique Deblois, Marketing Director of Worldwide Supply.
Franklin, NJ (PRWEB) September 25, 2013
Worldwide Supply is pleased to announce it has garnered a 2013 WebAward for Outstanding Website by the Web Marketing Association in the Telecommunications category. The 2013 Best of Show winner is the Peugeot RCZ Test Driver website. Worldwide Supply joins Comcast Cable, Vocalocity and Integra Telecom among other prominent brands to win a 2013 award in the Telecommunications category.
More than 1,500 entries from 40 countries were adjudicated in 96 industry categories during this year's competition. Entries were judged on seven criteria including design, copy writing, innovation, content, interactivity, navigation, and use of technology.
The WebAwards is the standards-defining competition that recognizes the individual and team achievements of Web professionals all over the world who create and maintain outstanding websites.
The team that helped Worldwide Supply achieve this prestigious award is comprised of:

Marketing Director: Veronique Deblois
Marketing Coordinator: Judie Runz
Marketing and Sales Coordinator: Kayla Amorosino
Web Developer: Internet Omega
Graphic Design: Mojo Designs
Delve Partners: Online Marketing/Optimization
"We are honored to be recognized among some of the world's most well-known brands for this esteemed award," said Veronique Deblois, Marketing Director of Worldwide Supply. "Our team worked feverishly to completely redesign our website and to have those efforts validated by a world-class organization such as The Web Marketing Association is humbling," adds Deblois.
A complete list of the winning websites can be found at the WebAward Website at http://www.webaward.org.
Methodology
There are 96 industry categories and each site goes head-to-head with other sites in their categories and the highest score is selected Best of Industry winner in that category. Of the remaining entries, if they received a score of 60 or greater out of a possible 70 points granted by the judges, the entry receive the Outstanding Website award. Entries that scored above the average for their industry and 59.9 receive the Standard of Excellence award. The Top Agency Award is given to recognize the consistently outstanding development going on at interactive firms.
###
About the WebAwards
The Web Marketing Association was founded in 1997 to help define the standard of excellence for online marketing. Our internationally known award programs, such as WebAward Competition for Website Development, Internet Advertising Competition and the MobileWebAwards, recognize the people and organizations responsible for developing the most effective online marketing programs on the Internet today. Entrants benefit from assessment of their marketing efforts by a professional judging panel and the marketing opportunities presented by being recognized as an award-winning web developer.
About the Web Marketing Association
The WebMarketing Association is working to create a high standard of excellence for Web site development and marketing on the Internet. Staffed by volunteers, it is made up of Internet marketing, advertising, PR and design professionals who share an interest in improving the quality of Website development and marketing on the Internet. Since 1997, the Web Marketing Association's annual WebAward, Internet Advertising Competition and MobileWebAward award programs have been helping interactive professionals promote themselves, their companies, and their best work to the outside world. Now in its 17th year, the WebAward Competition has become the premier award event for Web developers and marketers worldwide.
About Worldwide Supply
Worldwide Supply is a recognized leader in the network hardware marketplace, providing and buying networking and telecommunication equipment to, and from, companies globally.
Headquartered in northern New Jersey, and with offices in California, Colorado, Massachusetts, New York, North Carolina, Texas and Latin America, Worldwide Supply provides a full line of certified pre-owned and new networking and telecommunication products from major manufacturers such as Cisco, Juniper, Arris, Dell, Calix, Extreme and Alcatel-Lucent.
Worldwide Supply backs the products it sells with an industry-leading lifetime warranty.
Worldwide Supply is TL 9000 and 9001:2008 certified. For more information, visit http://www.worldwidesupply.net.
###
For additional information on this topic, about Worldwide Supply or to schedule an interview with Worldwide Supply CEO, Jay VanOrden, please contact Veronique Deblois at 973-823-6412 or via email at pr(at)worldwidesupply(dot)net.