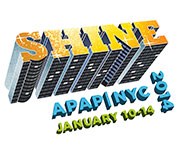 Registration is free for APAP members, although they must pre-register.
(PRWEB) September 26, 2013
The Jazz Connect Conference at APAP|NYC 2014, organized by JazzTimes in conjunction with the Jazz Forward Coalition, announced the tentative schedule of events for one of the largest gatherings of the professional jazz community. The conference will be held Jan. 9-10, 2014 at the Hilton New York Hotel in New York City and will feed into the annual APAP (Association of Performing Arts Presenters) Conference as well as Winter Jazzfest.
Continuing the momentum from the January 2013 event which tripled to over 1,000 registrants, the Jazz Connect Conference in 2014—based on feedback from attendees—will feature a series of essential workshops, panels and events held over the course of two days. Early Bird Registration is only $75 until Oct. 31, with additional discounts offered to members of various organizations. Registration is free for APAP members, although they must pre-register.
With a theme of "The Road Ahead" the conference will again bring together a wide cross-section of the jazz community for 12 workshops and 5 plenary sessions, on topics such as: "Navigating Social Media"; "The Role of Education in Presenting Jazz"; "The New Paradigm for Record Labels"; "Cutting Through the Clutter"; "Jazz Grantmaking"; "Expanding the Language of Jazz"; "Getting to the Gatekeepers in the Jazz Media"; "Give to Get: Growing Your Fan Base with Online Content" and other timely and engaging subjects. Moderators and panelists include an impressive cross-section of artists and professionals. The keynote speaker will be announced soon. New this year will be a networking session enabling emerging artists and professionals to connect and get informed input on their own careers and operations. "We noticed that attendees appreciated the opportunity that Jazz Connect offered to network with each other and meet colleagues face-to-face and so we decided to program a session that facilitates that interaction," says Lee Mergner, publisher of JazzTimes and one of the conference's organizers. "It seems that social media can only take you so far in establishing relationships in the community."
The schedule reflects the input from and collaboration with numerous organizations such as JazzWeek (radio programmers), Jazz Education Network, All About Jazz and the Jazz Journalists Association, each of whom will host workshops or panels during the conference. In addition to incorporating the involvement of various organizations, the sessions also include a wide range of voices in and out of the jazz community.
Peter Gordon, co-founder of Jazz Forward Coalition says that the new theme for the Jazz Connect Conference is all about the jazz community looking forward. "There has been a vibrant re-emergence in the sense of community for jazz," says Gordon. "By providing a forum for this shared passion coupled with top professionals guiding us with their deep knowledge base, we hope to arm everyone with tools and strategies to thrive in the coming year. Working together we have a collective intelligence that is unstoppable for the road ahead."