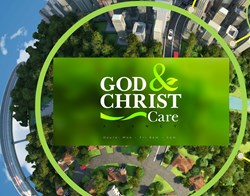 God & Christ Care believes in the idea of caring for life and is a place of healing, restoration, and growth.
San Antonio, TX (PRWEB) September 26, 2013
Former fashion insider Chris Obinzu found himself homeless on the streets of New York after losing everything in the financial recession of 2008. The formerly successful designer and producer could no longer afford the lifestyle to which he had become accustomed. Not knowing where to turn for help, and feeling ashamed at where he found himself, he ended up in a shelter, abandoned by his close friends in the industry and his church. This experience impressed upon Chris the need for quality home health care in San Antonio not just for seniors but for anyone in an unfortunate place in their lives. "I knew that I would have to start again, from the bottom," he says.
Chris Obinzu somehow found the courage to leave the Big Apple, deciding that a move to San Antonio, TX would give him the fresh start he needed. At the same time, unexpected support from a charitable organization helped get him back on his feet. Eager to pay his own way, he took a call center job paying $8.50 per hour. That job then turned into a supervisory position that allowed Chris the financial freedom to marry Golda, the woman of his dreams, and buy their first house. Chris Obinzu maintains that his personal life journey brought him to where he is today. "I've been given a second chance," he says. "God took care of me and saw me through my dark time."
Chris and Golda Obinzu see God & Christ Care as a more spiritual alternative to other personal care agencies, adding that God & Christ Care "has achieved a remarkable reputation as a preferred provider for home health care in San Antonio." God & Christ Care was established with the purpose of treating people and helping to improve their quality of life. They fulfill this mission by providing quality home health care and community programs that intricately consider the physical, emotional, and social aspects of the patient. "Our agencies focus on getting people back on their feet with the different services we offer. We pride ourselves in not being able to offer too much and believe in second chances."
God & Christ Care features a wide range of services, catering to various needs. They offer high quality in-home care services, including skilled and unskilled services. They provide assistance to not only seniors but clients of all ages, offering support to those recovering from injury, illness or surgery, or just need a strong helping hand. God & Christ Care features a transportation service that includes safe, reliable and friendly transportation to both emergency and scheduled medical and dental appointments. In addition to caring for seniors and the disabled, God & Christ Care offer a unique pediatric home health care that includes speech therapy, occupational and physical therapy, pediatric private duty nursing, and a training outreach service specifically targeted at the family. The agency's therapy programs are available to anyone who requires them.
God and Christ Care home health care agency strives to care for others in the same manner they wished their own parents to be treated. The God & Christ Care method of serving people includes helping to improve their quality of life. The Obinzus believe that "life is our most precious gift," as stated on their website godandchristcare.com "and we aim to honor and nurture the lives of every individual who enters our carefully designed health programs." Because of their deep commitment to leadership through service, they chose to create a company that would ensure that the love they feel for their fellow human beings would shine through the services they provide. More than 'just' a home health care company, God & Christ Care believes in the idea of caring for life and is a place of healing, restoration, and growth.