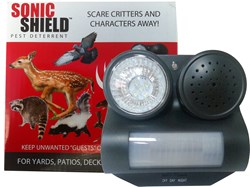 Irvine, California (PRWEB) September 25, 2013
The Bird-B-Gone Sonic Shield™ is a motion activated animal deterrent that replicates the sound of a vicious barking guard dog when triggered. "At night it uses a bright flashing LED light to scare animals so you don't have to worry about barking dogs waking up the neighbors," says Shaun Johnson, Retail & Mass Merchant Sales Manager at Bird-B-Gone.
The device is small and portable. It operates on four AA batteries that last an average of four to six months, depending on how often the device is activated. The motion sensor will work up to approximately 30 feet to the front and 20 feet to the side. Place the product where you are having problems with pest birds and animals and watch them flee. "We have even had customers use the Sonic Shield™ in their garbage area to keep raccoons from scavenging," says Johnson.
Sonic Shield™ is now available through Absolute Bird Control. To learn more visit http://www.absolutebirdcontrol.com or call (877) 820-8205.
Bird-B-Gone is the world's largest manufacturer and distributor of professional bird control products, providing effective and humane solutions to a bird-free environment. Since 1992, Bird-B-Gone products have helped solve pest bird problems in commercial, industrial and residential settings across the globe. Bird-B-Gone proudly manufactures their products in the USA ensuring they meet the highest quality standards in the industry.
###