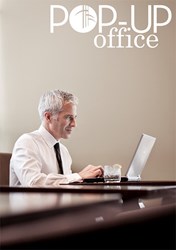 "Working alone isn't always the most productive way to meet deadlines. Sometimes you need a quiet place to work surrounded by the energy of others." - Tawny Paperd, Director of Sales and Marketing at Hotel 1000.
Seattle, WA (PRWEB) September 26, 2013
Hotel 1000, downtown Seattle's most distinct luxury destination, announces the launch of its Pop-Up Office program for hotel guests and the public. Geared toward the business traveler, the growing number of telecommuters and businesses with limited office space, Hotel 1000's Pop-Up Office will be the more luxurious alternative to working from a coffee shop.
"While telecommuting is a reality for a record number of individuals, working from home isn't always the most productive way to meet deadlines," said Tawny Paperd, director of sales and marketing at Hotel 1000. "Rarely are all of our meeting rooms and flexible spaces occupied at once. Our goal with the Pop-Up Office is to provide our business traveler guest and anyone with a desire for a more productive work environment a place in which to work, while simultaneously generating revenue for the hotel."
Open Monday through Friday, from 8 a.m. – 5 p.m., Hotel 1000's Pop-Up Office program begins with a basic package, which includes most of what is needed to support a productive work day. The cost increases slightly with additional components.

Executive Office: For $15 per day, Hotel 1000 will provide a comfortable, all-day workspace, including complimentary, truly high-speed Wi-Fi Internet, bottomless coffee, tea, water and soda, as well as a morning, mid-morning and afternoon snack.
Corner Office: For $20 per day, Hotel 1000 will provide everything in the Executive Office package, plus valet parking.
Oval Office: For $35 per day, Hotel 1000 will provide everything in the Corner Office package, plus lunch from BOKA restaurant + bar.
The location of the Pop-Up Office at Hotel 1000 will change depending on space available and will be announced in advance via Hotel 1000's Social Media channels. Other Pop-Up Perks will include an Office Concierge, 15% discount on services at Spaahh at Hotel 1000, 15% off when dining at BOKA, $15 rounds of golf in Hotel 1000's virtual Golf Club, as well as VIP seating during Happy Hour at BOKA. The use of private meeting rooms or executive suites for interviews is also available.
For more information on Hotel 1000's Pop-Up Office, please visit: http://www.hotel1000seattle.com/meetings-events/pop-up-office/.
###
About Hotel 1000
Hotel 1000, open in downtown Seattle since June 26, 2006, features 120 luxury guest rooms, BOKA RESTAURANT + BAR, Spaahh and The Golf Club. At Hotel 1000, genuine, caring, personalized service enabled by leading-edge technology and intimate yet spectacular accommodations redefines the luxury experience. Hotel 1000 offers unexpected pleasures, distinctive amenities, anticipative service and a customized experience tailored to any occasion. Located at 1000 First Ave. at the corner of Madison Street, Hotel 1000 is steps away from the waterfront along Elliott Bay, and conveniently centered between Pike Place Market, Seattle Art Museum, the business district and lively and historic Pioneer Square.
About Personal Luxury Resorts & Hotels™
Personal Luxury Resorts & Hotels™ include unique hand-picked properties in spectacular U.S. destinations coast to coast. Each hotel and resort delivers personal luxury in a spirit true to its own distinctive locale, yet in keeping with the collection's shared mission. They represent a select portfolio of Benchmark Hospitality International™ which has been a leading US-based hospitality management company for over 30 years.. Personal Luxury Resorts & Hotels is the preferred choice of guests who yearn for transformation over accommodation, customization over conformity, and inspiration over predictability. With Personal Luxury Resorts & Hotels, luxury is always personal. http://www.personalluxuryresortsandhotels.com
About Benchmark Hospitality International™
Benchmark Hospitality International™ is a recognized global leader in the management and marketing of resorts, hotels and conference centers. The company's two distinctive portfolios of properties, Benchmark Resorts & Hotels™ and Personal Luxury Resorts & Hotels™, represent the finest in guest-dedicated hospitality in unique destinations across the United States, in the Caribbean and Japan. As a founding member of the International Association of Conference Centers, Benchmark Conference Centers™ maintain the highest standards for certification in meeting excellence. Benchmark Hospitality was launched in 1980 as an independent company and today operates worldwide from offices in The Woodlands (Houston), Texas, and regional offices in New Jersey, Washington State, Japan and Chile. For additional company information visit http://www.benchmarkhospitality.com.