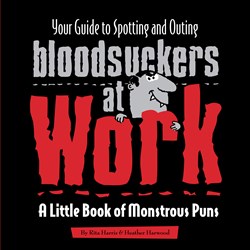 Los Angeles (PRWEB) September 26, 2013
Bet you never knew your doctor, lawyer or plumber could be a bloodsucking vampire, but according to Rita Harris it's true and you can get rid of these parasites in two easy steps.
In Your Guide to Spotting and Outing Bloodsuckers at Work, Harris creates a source of entertaining solutions to get rid of your workplace predators. Equipped with tips for every profession, this book highlights how to overcome the backstabbing, gossip and bad bosses without breaking out the garlic and silver stakes.
"The book had ten years in the making," says Harris. "At first it was hard to spot the evil bloodsuckers that roam throughout our day, but once you know the trick, it becomes much easier!"
Sharing puns so eye-rollingly bad, Your Guide to Your Guide to Spotting and Outing Bloodsuckers at Work is a dependable force for excavating vampires from your life.
"The puns started as a game between my husband and I until I read an article about 'emotions vampires' at work," says Harris. "I then realized the real dangers throughout life are the vampires we consort with on a daily basis, so this book hightlights how to spot them."
Sure to boost the morale and laughter throughout the office and at home, this book is a must for every shelf.
Your Guide to Spotting and Outing Bloodsuckers at Work: a little book of monstrous puns
By Rita Harris
ISBN: 978-1-4817-7341-6
Pages: 24
Price: $17.99
Available at http://www.plushvamp.com, http://www.authorauthor.com, http://www.amazon.com and http://www.barnesandnoble.com
About the Author
Rita Harris is a writer for an HR consulting firm—working to rid the planet of "snoring" benefits communication. Rita lives in California with her husband and, two furry four-legged monsters. Heather Harwood is a graphic designer whose caffeine-inspired illustrations put the fun into fighting vampires. She lives in Mexico with her husband and their puppy, Sophie (the cutest dog in the world).