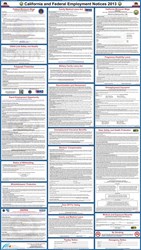 As an employer, don't fall victim to employee FMLA abuse, get your updated state and federal poster today!
Los Angeles, CA (PRWEB) September 25, 2013
Stay up to date with the latest updates and revisions with the most current California State and Federal Labor Law Poster. This poster contains the updated Federal and Medical Leave Act (FMLA) of February 2013. The act was created to help employees manage their multiple roles with work and family by being able to take unpaid leave for various reasons. On an annual basis, employees are entitled to take up to twelve weeks of leave for the care of an immediate family member in relation to serving active duty.
It is very important for employers to have the most current form of complete labor law posters so that they do not fall victim of being under-informed about employee leave notifications. State and Federal Poster, Inc is always up to date on the latest state and federal updates to acts and laws in place. Don't fall behind on the current revisions with outdated California State and Federal Labor Law Posters. Get the latest updates from 2013 and more!