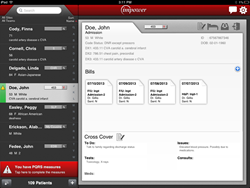 Finding a billing solution that can integrate with Ingenious Med is relatively easy.
Atlanta (PRWEB) September 26, 2013
Medical Management Solutions, an Austin,Texas- based management services organization (MSO), has announced a partnership with Ingenious Med, provider of the nation's largest multispecialty charge capture and physician rounding platform.
Total InPatient Services, a current client of Ingenious Med, suggested an integration between the two providers after identifying a need while working with Medical Management Solutions as a vendor. After the successful integration, Ingenious Med and Medical Management Solutions found they had similar goals for their clients.
"Finding a billing solution that can integrate with Ingenious Med is relatively easy." said Dr. Mark Murray, founder and CEO of TIPS. "The challenge was finding a company as responsive and thorough as Medical Management Solutions. This integration unifies our revenue cycle in a brand new way; it's a very exciting move for charge capture and billing efficiency."
"Interfacing with Ingenious Med was remarkably easy," said Matt Thompson, president and CEO of Medical Management Solutions. "After working together for TIPS and seeing what seamlessly connecting two major components of the revenue cycle could do for efficiency, setting up a more permanent relationship was an obvious next step."
Massive, high-cost implementations of EMRs are increasing pressure on revenue. Ingenious Med is focused on efficiency and recovering some costs while also improving quality of care.
"Efficiency in revenue cycle is more important than ever," said Hart Williford, CEO of Ingenious Med. "Pairing with groups like Medical Management Solutions is good sense. Access to the entire lifecycle of a bill is now clean and measureable, maximizing revenue without any additional cost to patients or compromise to a care provider's valuable time. The fact that we found this relationship through one of our clients makes it that much better; the partnership is already field tested. It works."
About Medical Management Solutions
Medical Management Solutions thrives by capturing the collective knowledge of their staff and translating that into success for each of their customers. Their success has been predicated on developing a successful management model that can be replicated at other offices. The basic tenets of this model include: re-negotiation, managed care, contracts, improve coding practices, improve billing and collections procedures, annual fee structure evaluation, improve accounting procedures, and financial analysis. For more information, visit http://www.med-manage.com.
About Ingenious Med
Founded in 1999 by a group of practicing physicians, Ingenious Med provides an award-winning platform that automates the workflow of physicians rounding in inpatient and outpatient clinic environments. Simplifying the revenue and charge capture processes for more than 25,000 users in the nation's leading healthcare facilities, Ingenious Med's impower is the nation's largest performance platform of its type in the healthcare industry today. The cloud-based revenue and analytics application provides real-time data that helps hospital systems and physician groups improve physician productivity and efficiency, enhance quality of care, maximize revenue, increase billing accuracy, and ensure compliance. For more information, visit http://www.ingeniousmed.com or call 404-815-0862.
###