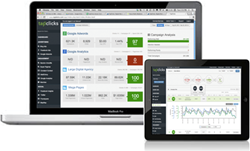 We are very impressed with what the TapClicks team has achieved.
Cupertino, CA (PRWEB) September 25, 2013
TapClicks, the digital presence company, today announced that the company has brought online more than 100,000 dashboards for small businesses tracking more than 250,000 digital marketing campaigns. This blistering pace of implementation blasts through the company's 2013 goals.
In addition, the signup rate of TapClicks new agency clients is accelerating rapidly.
"The summer has been sizzling hot," said Babak Hedayati, CEO of TapClicks. "Our major release of version 3.0 is scaling in a massive way and we couldn't be more excited." This rapid deployment has helped TapClicks surpass its goals for dashboards with more than three months to spare, he said.
The TapClicks analytics dashboard brings into focus top-performing digital campaigns, from search-marketing and display ads to reputation management and social/mobile marketing. The TapClicks platform is directly integrated into more than 20 leading digital-marketing platforms ranging from Google AdWords, Facebook, Twitter, FourSquare, and most major ad-serving platform and email-newsletter services.
"We invested heavily in the development of our platform to ensure scalability under massive adoption rates and extreme server load. Clearly this investment is paying off," said Pierre-Luc Soucy, vice president of software development.
Hedayati said there has been a significant uptick in social-marketing campaigns and mobile engagement with consumers, two emerging marketing channels where it is essential to know what is working and optimize around those top performers.
"If you don't have a holistic view across every aspect of every campaign you're at risk of under-delivering to clients. Local media companies and digital agencies with these insights will win the lion's share of these new marketing channels," Hedayati said. "The land rush is on and the winners are those with advanced reporting that delivers true performance insights."
Company Information:
Founded in 2009, TapClicks operates out of offices in Silicon Valley, Canada, India and Mexico.
For more information, please visit http://www.TapClicks.com. Alternatively, you may contact TapClicks by phone at 408-725-2942 or email at info(at)TapClicks(dot)com.