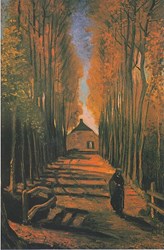 You should see the masterpieces of the gallery lit by Solux lights! The Five Cathedrals by Monet have never looked so fantastic. Many thanks. The curse of the Musee d'Orsay will soon be forgotten. - Guy Cogeval, Director, Musee d'Orsay
Rochester, NY (PRWEB) September 26, 2013
Fall is in the air and with it the annual display of brilliant foliage. According to the US forestry website, "During the growing season, chlorophyll is continually being produced and broken down and leaves appear green. As night length increases in the autumn, chlorophyll production slows down and then stops and eventually all the chlorophyll is destroyed. The carotenoids (yellow, orange, and brown colors) and anthocyanins (reds) that are present in the leaf are then unmasked and show their colors."
Much like the vivid colors of a leaf are hidden by excess green contained in chlorophyll, the true colors in paintings displayed in many museums are masked by lighting that either lacks colors in their spectrum or contains too much of certain colors.
LED use is growing in many areas but their color composition makes them a questionable choice for displaying works of art that were originally composed under natural daylight conditions. LEDs contain a disproportionate amount of blue light and lack deep red light making the objects they illuminate appear sterile and pale. Much time and effort are put into preserving works of art. Illuminating original paintings with LED lighting that not only masks the painting's true beauty but also is potentially damaging to the pigments is not a preferred practice. LEDs are also not continuously dimmable, meaning it is not possible to change their color.
Incandescent lights have long been the staple of museum lighting. While they offer a safer light for paintings than LEDs, incandescent lights emit a disproportionate amount of red, orange, and yellow light hiding the subtle blues and violets found in works by Monet and van Gogh.
SoLux lighting has been the premier light source specified by the museum industry for over a decade due to its unmatched ability to render the true and natural colors in art of all types and periods. The SoLux light source starts with an unparalleled replication of the natural daylight and additionally removes UV and IR light. The painting's true beauty is displayed the way the artist intended with minimal damage. Additionally, SoLux is continuously dimmable allowing the curator to adjust both the light level and color balance.
Beauty is in the eye of the beholder, and without proper lighting, true beauty is hidden like the fall colors of a leaf. SoLux has been counted on for over a decade to illuminate the world's most prized collections and each fall we are reminded of the beauty SoLux has brought back to the world and continues to preserve.
SoLux is a patented light source sold by Tailored Lighting Inc., Rochester, New York, 14624. SoLux provides an unparalleled replication of natural daylight. Use of SoLux in many of the world's top museums including the van Gogh, Musee d'Orsay, MoMA, and Guggenheim Museum is testament to its unmatched color quality and safety. SoLux also has eight times the life and twice the efficiency of standard incandescent sources, does not contain the mercury found in fluorescent lights sources, is dimmable, and is a fraction of the cost of LED sources. For more information visit http://www.solux.net or call (800-254-4487).