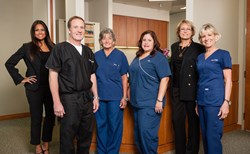 "The award recognizes those who have made a commitment to continuing their education and serving the community to the best of their ability, so I am honored just to be nominated." - Dr. Craig Armstrong, DDS
Houston, Texas (PRWEB) September 25, 2013
The office of Dr. Craig Armstrong, DDS is pleased to announce that he has been named one of this year's nominees for the Texas Academy of General Dentistry (TAGD) Texas Dentist of the Year™ Award. It is a note-worthy achievement that underlines Dr. Armstrong's dedication to providing patients with the best possible dental care.
Already having received a Fellowship Award from the TAGD, Dr. Armstrong considers it an honor to be recognized by the academy once again. "To be nominated for such an award by an organization that is devoted to the advancement of our profession is one of the highlights of my career," said Dr. Armstrong. "The award recognizes those who have made a commitment to continuing their education and serving the community to the best of their ability, so I am honored just to be nominated."
Dr. Armstrong joins 19 other Texas dentists that also made the nomination list. The winner of this year's award will be announced at the Dentist of the Year Gala being held on September 28th.
About the Texas Academy of General Dentistry
With more than 2,700 members the Texas Academy of General Dentistry is currently the second largest dental organization in the state and the only one solely dedicated to general dentistry. Since its formation in 1961 TAGD has been serving the dental community of Texas by advocating on the behalf of members and providing quality continuing education.
In order to gain membership, general dentists must fulfill continuing education requirements and meet stringent standard set by the TAGD.
ABOUT DR. CRAIG ARMSTRONG, DDS
Dr. Craig Armstrong, DDS has been practicing general and cosmetic dentistry in the Houston area for over 24 years. Dedicated to providing patients will the best care using the latest technology and techniques, Dr. Armstrong has continued his education since graduating from the University of Texas Dental Branch in Houston. He is also an active member in the dental community, previously serving as the President of the Greater Houston Dental Society and is currently a member of the Texas Dental Association and the American Dental Association.