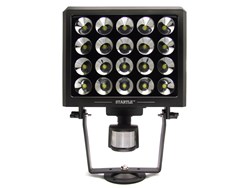 But what most homeowners don't know is that leaving your outdoor lights on all night is actually a big security no-no.
(PRWEB) September 25, 2013
Global Security Experts is proud to announce their new LED motion sensor outdoor security light aimed to continue their efforts of providing the best in commercial and residential security solutions. Set to launch winter 2013, The STARTLE high-intensity LED security light's innovative concept and design provides the easiest way to protect homes and businesses from unwanted intruders.
Ideal for office parks, yards, entrances, driveways and more, the security light is perfect for residential and commercial applications creating a powerful and intimidating ray of light to STARTLE off a burglar, vandal or trespasser.
"Most homeowners already know burglars, vandals and violent home invaders prefer to operate in the undercover of the night," says Jordan Frankel, known worldwide as the Security Sensei and founder of Global Security Experts. "But what most homeowners don't know is that leaving your outdoor lights on all night is actually a big security no-no. Over lighting provides an intruder an unfair advantage offering a clear visual path right to that vulnerable window or easy to kick-in door. Over lighting also signals the bad guys you're probably not home, increasing the chances of your family being targeted. This is where the STARTLE has a competitive edge, with its built in computer processor that triggers the light only when movement is detected. "
STARTLE doesn't just protect families and save them money, Frankel said, it also protects the environment. The ultra-bright LED motion sensor security light for outdoor or indoor use illuminates using only 100 Watts of power while actually producing close to 500 watts of intense brightness.
STARTLE high-intensity LED security light features include:

Up to 75% less energy used than a standard outdoor light fixture.
Maintenance free clear tempered safety lenses that keep out moisture, dirt and insects.
Temper resistant housing and lens.
Long lasting LED chips that emits light for 50,000 hours or 25 years, which means never having to climb a dangerous ladder again to change a bulb.
Environmentally friendly with no mercury or toxic materials.
Motion activation that will turn on and shut off automatically.
The Security Sensei is available for media interviews regarding his security training and services, along with Global Security Experts' security products, including OnGARD, BlastGARD, BurglarGARD and more.
For more information, visit http://www.globalsecurityexperts.com/products/outdoor-security-lighting.html
About Global Security Experts:
For nearly two decades, Jordan Frankel has led the professionals at Global Security Experts in providing affordable, customized home security solutions for the everyday citizen. Global Security Experts offers the latest state-of-the-art security devices and physical deterrents to home invasion, as well as on-site training to families, businesses and individuals worldwide. Frankel, known as the Security Sensei, is a highly trusted authority in the field of residential security. He has completed home security makeovers and trainings for celebrities, high-profile business executives, and even a former President of the United States. Frankel and his revolutionary security inventions have been featured on several national television shows and in news outlets throughout the country, including The Oprah Show, The Rachael Ray Show, Fox News, The Boston Herald and more. Additionally, Frankel has authored countless articles for a variety of the most respected security publications worldwide. To learn more and to find out what Global Security Experts can do for you, visit http://www.globalsecurityexperts.com.