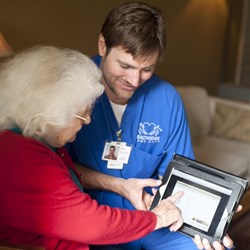 The vast majority of home health agencies are reputable, with honest, hard-working clinicians who care for homebound patients with respect and commitment. - Chris Hester, Kinnser's president and founder.
Austin, TX (PRWEB) September 26, 2013
Kinnser Software, an Austin-based company that provides the leading software solution for home health agencies, has helped clinicians nationwide validate more than 275,000 visits with homebound patients using its patent-pending VisitVerify™ software. Since the integration of VisitVerify into Kinnser's flagship software Kinnser Agency Manager™ in April of this year, dozens of Texas agencies have taken the lead to combat fraud using this web-based solution to successfully validate nearly 150,000 clinician visits at patients' homes, documenting the most visits of any state. Currently, Texas has one of the largest concentrations of home health providers in the nation, and the home health job market is the fastest-growing field in the health care industry.
Denise Geraci, owner and president of Health Sense Home Care in Austin, Texas, reports that VisitVerify™ not only tracks patient visits instantly, her business saw immediate improvements in its financial performance. "The administrative processing time for scheduling and billing was quickly cut in half, which made an impact across the board for my staff. Overall, this technology is a secure tool to measure results while providing our patients, most of whom are seniors, with better care."
As Medicare billing is being heavily scrutinized in the home health industry, VisitVerify™ was introduced as a safeguard to prevent visit fraud and ensure accurate records at the source of treatment. The software uses GPS technology to capture the exact time and location of clincians' visits with patients. Based on Kinnser's analysis of CMS data, about 87 percent of the home health industry has converted to electronic medical record technology, saving millions in annual health care costs with web-based software tools like VisitVerify™ that streamline processes and encourage more transparent reporting methods.
Texas's highly publicized $375 million Medicare and Medicaid fraud case last year raised red flags across the state to prevent offenders from billing for home care visits that did not occur. While state legislatures across the country debate legislation to address the problem, agencies using Kinnser VisitVerify™ have put into action a viable solution that can eliminate this method of fraud at the source, setting higher standards for the industry.
"The vast majority of home health agencies are reputable, with honest, hard-working clinicians who care for homebound patients with respect and commitment," says Chris Hester, Kinnser's president and founder who was instrumental in the creation of web-based software for home health a decade ago. "Through their adoption of VisitVerify™, agencies across Texas are taking a proactive stance against fraud. Through that process, clinicians have also gained a tool to definitively prove the good work they do every day to care for patients."
The technology behind VisitVerify™ – GPS location and time/date capture – is familiar to anyone with a web-enabled tablet computer, like the iPad or Android. Kinnser's breakthrough is the integration of this technology into its web-based software solutions for home care agencies. A clinician using a tablet computer at a patient's home simply has the patient sign on the device screen. GPS and wireless capabilities allow the physical location and date/time to be simultaneously recorded. This data is instantly accessible by agency administrators and other members of the care team. If a family member, Medicare surveyor, physician, or other authorized person needs to know if a visit took place, the agency can respond immediately and offer definitive proof.
VisitVerify™ is a companion product to Agency Manager™, Kinnser's flagship web-based software solution for home agencies, and Therapy Manager™, the company's software for therapy companies. To meet the demands of a rapidly escalating seniors population, Kinnser is also introducing Kinnser Hospice™ software in November to better serve critically ill patients and families.
Facts about the Explosive Growth of Home Health and the Need for Web-based Technology:

Isolated Fraud Statistics: While the majority of home health agencies and clinicians adhere to accurate reporting methods, fraud cases are small and isolated, given the massive size of the industry. Electronic medical record technology is proving to be one of the most effective tools to eliminate fraud and enforce transparent billing methods throughout the industry.
Significant Cost Savings in Home Health: Billions of dollars can be saved each year with home health care, by far the most preferred and cost-effective method of post-acute patient care when compared to treatment at hospitals and long-term institutional settings. According to federal and private-sector data, the average cost to provide home care (including skilled and non-skilled care) can cost Medicare $150 per day compared to the same care in a hospital at $1,500 a day. As 10,000 seniors are projected to turn 65 and age into Medicare every day for the next 18 years, home health is key to the management of the national healthcare budget.
Emergency Preparedness Solution: Web-based technology is steadily replacing servers and paper-based health records as a long-term emergency preparedness tool to help large and small health care organizations maintain operations with access to records 24 hours a day. In addition to safeguarding privacy, web-based technology has kept Texas hospitals and home health agencies running during natural disasters such as floods, tornados and hurricanes that have threatened central Texas and Gulf coast communities.
About Kinnser Software – Changing the Landscape of Home Health Technology
Approaching its tenth anniversary, Kinnser Software, Inc. provides web-based solutions that deliver clinical and business results for the home health industry. Headquartered in Austin, Texas, Kinnser Software serves more than 1,500 home health agencies, therapy companies and hospices, and thousands of clinicians and staff nationwide to manage scheduling, billing, electronic visit verification, day-to-day operations and patient referrals. To learn more about Kinnser Software, visit http://www.kinnser.com.