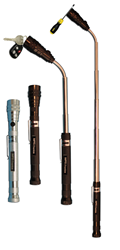 Lewisberry, Pa (PRWEB) September 26, 2013
Many businesses refer to the imminent 4th quarter as "yearend" but many American children are hoping this is only a sweet beginning to a candy coated gift filled season.
Safety conscious Americans should consider this 3 LED Telescoping Magnetic Flashlight (TeleMag) before stepping out into the dark evenings of "Halloween". As children fantasize about coming home with swelled bags of treats, their guardians will be anxious about their safety.
The TeleMag can certainly light the way with its 3 bright LEDs cutting through the darkness giving oncoming traffic, or Goblins and Clowns for that matter, a clear view of approaching groups of people. The sturdy stainless steel clip, included with each unit, is utilized to conveniently attach the flashlight to apparel. The flexible section attached to the light's head can point the light in the most useful direction.
Also, as Thanksgiving and Christmas fast approaches, not only are all of us dreaming of something special under the tree, many Corporations offer employee gift items for a "job well done". Since low volumes can be private labeled this makes an awesome Holiday Season reward. In addition to the flashlight's features already mentioned, it also is powerfully magnetic at both ends and extends from 6.5" to almost 22", making this a great stocking stuffer gift for everyone in any family.
Please contact IMPEL Tronics now so the Company can give a timely response.
To learn more about this TeleMag Tool contact IMPEL Tronics directly or visit http://www.impeltronics.com
Media Contact:
Michael Pastal
717-440-1680
mpastal(at)impeltronics(dot)com