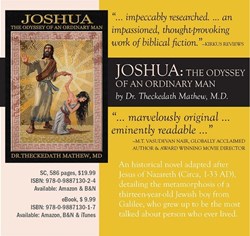 Dr. Theckedath Mathew's book Joshua: The Odyssey of an Ordinary Man is impeccably researched. - Kirkus Reviews
(PRWEB) September 25, 2013
Joshua: The Odyssey of an Ordinary Man is a historical novel adapted after Jesus of Nazareth (Circa, 1-33 AD), and is the story of a thirteen-year-old Jewish boy from Galilee who grew up to be the most talked about person who ever lived.
Many of his believers said he was the Son of Man, who lived for the sinners and the downtrodden, died on a cross, was resurrected and ascended to heaven. Historian and biblical scholar, John Dominic Crossan, one of Joshua's critics said, "Joshua was a common criminal, condemned for a cross and his body devoured by dogs."
Who was he this man named Joshua? Who told the truth about this remarkable individual?
There are many myths and missing pages in the bible. Joshua: The Odyssey of an Ordinary Man meticulously brings back to the secret life of Jesus, the eighteen unknown years of Jesus' adolescent and early life as the historical Jesus is unearthed. Was Jesus married? Did Jesus father a child? Who were Jesus' teachers? What lands did Jesus travel?
Stoning, honor killings (biblical honor killing) and many other atrocities against women in Jesus' times are explicitly revealed. Jesus of Nazareth is the first man – the first prophet ever who fought for women's rights. He stood amidst of a ring of men with stones in their hands and a harlot in the middle ready to be stoned. Women were subjected to genital mutilations, stoning, honor killings, and Sathi. These atrocities against women continue today.
Narrated in the most captivating style, along with a detailed description of the many nations Jesus traveled, Joshua: The Odyssey of an Ordinary Man details Joshua's life, his struggles and challenges in a manner never written before. A novel of epic proportions, an absolute must read.
About the Author
Born to an Orthodox Christian family in a Hindu culture, Dr. Theckedath Mathew secured several postdoctoral diplomas in Western Medicine and a doctorate in Eastern Philosophy. As a cardiologist, he has lived and practiced in four continents of the world, which gave him the unique privilege of mending the hearts and touching the souls of several thousand fellow human beings. Author of the Treasures of the Heart, a nonfiction medical book. He is also a teacher, historian, public speaker, and television commentator. Although his profession involves fixing the broken heart, it was his passion to comfort the soul that inspired him to write Joshua: The Odyssey of an Ordinary Man.
Joshua: The Odyssey of an Ordinary Man
Publication Date: March, 2013
Trade Paperback ISBN 978-0-9887130-2-4
Ebook ISBN 978-0-9887130-1-7
Available: Amazon, Lightning Source, Baker & Taylor & Ingram
Members of the media who wish to review this book may request a complimentary paperback copy by contacting the publisher at (972) 965-1007.