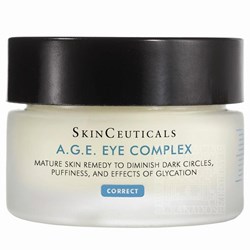 Skincare Market, LLC. is proud to offer a wide array of powerful and effective products from SkinCeuticals.
Brea, CA (PRWEB) September 26, 2013
Dark circles can make even young eyes look old and tired. Don't fall victim to this skin dilemma by ignoring the under-eye area and not regularly applying eye cream. Skincare Market, LLC. now carries SkinCeuticals A.G.E. Eye Complex, which contains powerful ingredients to help combat the severe signs of aging including reducing the appearance of dark circles, under-eye bags, wrinkles, and crows feet.
SkinCeuticals A.G.E. Eye Complex is perfect for all ages. It will target young tired eyes and mature under-eye wrinkles with gentle yet effective formulation specifically for the multiple signs of aging. Incorporated into a daily morning and night routine, the complex will yield maximum results especially when used over a SkinCeuticals serum.