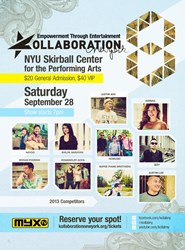 Like Kollaboration, Myx TV aims to empower Asian American artists by providing a platform for expression through their channel.
Los Angeles, CA (PRWEB) September 24, 2013
Myx TV proudly announces its partnership with the Kollaboration New York City competition. The competition is back for their 8th year to feature the tri-state's top Asian American performers. Ten performers will compete for a prize of $1,000 and a chance to advance to the Kollaboration Star finale, where $20,000 awaits the champion. Empowering through entertainment, Kollaboration New York lights up the stage of the NYU Skirball Center for the Performing Arts in Washington Square on September 28th.
Spotlighting Asian American artists, now in 14 cities across the United States, Kollaboration boasts of a stellar talent pool. Previous winner Far East Movement moved on to record albums and now has the distinction of being the first Asian American group to earn a #1 hit on the Billboard Hot 100 in the United States. Hip hop dancers Quest Crew wowed Kollaboration's audience before winning the third season of America's Best Dance Crew, appearing on national television shows, and choreographing for well-known artists such as LMFAO. Another Kollaboration champion, Kenichi Ebina, would go on to conquer the Apollo Amateur Night and was recently crowned as the 2013 winner of America's Got Talent.
Launched in 2000 by founder and comedian Paul "PK" Kim, Kollaboration has grown from a local talent show in Los Angeles' Koreatown to a North American showcase with millions of online viewers around the globe. Its goal is to empower Asian American artists to pursue a career in arts and entertainment, and provide a stage for performers that have been historically underrepresented in mainstream media.
"Myx TV is proud to partner with Kollaboration New York City in its laudable work that brings the best Asian American talent to the spotlight," said Tiffany Phung, Marketing Manager for Myx TV.
This year's competitors include vocalists Adinah Lagud, Austin Luu, Justin Joo and Shilpa, rappers Bohan Phoenix and IZZY, musician duo Super Piano Brothers, steppers noMusic, dancers PowerPuff Boys, and guitarist-vocalist duo Hayoo.
"We are proud to have the support of Myx TV. Like Kollaboration, Myx TV aims to empower Asian American artists by providing a platform for expression through their channel," said Roy Choi, Executive Producer of Kollaboration. "We look forward to a fruitful relationship with this fantastic network."
To learn more about Kollaboration New York City, visit http://www.kollaborationnewyork.org
##
ABOUT Myx TV®:
Myx TV is the fastest growing Asian American entertainment network in the United States. Broadcast in 12 million households, with millions more viewing online, the network is available in both linear and digital platforms, offering both live and on demand content. Myx TV's award-winning programming consists of original productions, reality shows, live music performances, game show competitions, films, and music videos, airing 24/7 in English. To find out more, visit http://www.myx.tv, http://www.facebook.com/myxtv, http://www.twitter.com/myxtv, http://www.instagram.com/myxtv, and http://www.youtube.com/myxtv.
Media Asset:
TV Commercial: http://youtu.be/u7FOTfdUHOY
Myx TV Contact:
Tiffany Phung
Marketing Manager
Tiffany(dot)Phung(at)myx(dot)tv