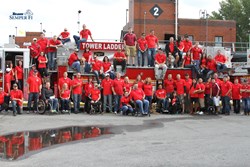 We are proud to honor the heroes of 9/11 again this year by retracing fireman Stephen Siller's steps, helping to keep their memory alive.
New York, NY (PRWEB) September 25, 2013
For the sixth straight year, Semper Fi Fund will send over 70 injured service members from Team Semper Fi along with 35 of their family members, to take part in the annual Tunnel to Towers Run in New York City. Semper Fi Fund, a non-profit that provides immediate financial assistance to injured service members, makes it its mission to honor our country's military heroes by supporting them in their time of need; this week, on Sunday, September 29, the men and women of its competitive athletic program Team Semper Fi will honor the brave Americans who risked and sacrificed their lives on September 11, 2001.
The Tunnel to Towers Run is an annual event organized by the Stephen Siller Tunnel to Towers Foundation. The run memorializes all who perished on 9/11 and follows the footsteps of Stephen Siller, a firefighter who raced on foot from the Brooklyn Battery Tunnel to the World Trade Center to help in the rescue efforts. Stephen Siller is one of the many firefighters, police officers and first responders who never made it out of the Towers that day—but it's thanks to them that many others did.
"The men and women of Team Semper Fi know the meaning of sacrifice first-hand," said Karen Guenther, CEO of Semper Fi Fund. "We are proud to honor the heroes of 9/11 again this year by retracing fireman Stephen Siller's steps, helping to keep their memory alive."
For more information about Team Semper Fi, visit http://www.teamsemperfi.org.
Please direct media requests to Alicia Sellitti, alicia(at)adscommunications(dot)co.
About Team Semper Fi
Team Semper Fi is an athletic sports teams made up of over 600 injured service members who compete in athletic events across the country. With their motto "Recovery Through Sport," Team Semper Fi is a rehabilitative sports programs offered by the Semper Fi Fund. The team is made up of servicemen and women who have overcome significant challenges in their service to our country, and have embraced the fighting, athletic spirit on their road to recovery.
About Semper Fi Fund
Semper Fi Fund, and its program America's Fund, are set up to provide immediate financial assistance and lifetime support for injured and critically ill members of the U.S. Armed Forces and their families, directing urgently needed resources to post 9/11 service members the Army, Marine Corps, Navy, Air Force, Coast Guard, and Reserves. Semper Fi Fund has been working with wounded service members since 2004, offering assistance to lessen the burden for those who need it most. The Semper Fi Fund's streamlined structure keeps overhead very low – less than 6%; they are also one of three veteran charities to receive an "A+" rating from The American Institute of Philanthropy, and a "Four Star" rating from Charity Navigator.
The Semper Fi Fund has given more than 62,400 grants totaling more than $80 million to service members and their families.