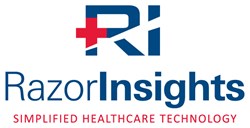 Kennesaw, Georgia (PRWEB) September 25, 2013
RazorInsights, a leading provider of fully-integrated health IT solutions for rural, critical access and community hospitals, today announced its partnership with F.W. Huston Medical Center, located in Winchester, Kansas. F.W. Huston has chosen to implement RazorInsights' ONE-Health System Edition to achieve meaningful use and improve its efficiencies and patient safety.
ONE-Health System Edition is comprised of RazorInsights' ONE-Electronic Health Record (Inpatient Clinicals) and ONE-Financials. Having an associated outpatient facility, Jefferson Medical Clinic, the medical center has future plans to add RazorInsights' fully-integrated ambulatory EHR system.
"We are looking forward to achieving the operational benefits RazorInsights' technology can provide our hospital," commented Jason Johnson, CIO at F.W. Huston Medical Center. We have seen what they have done for other hospitals our size and we anticipate achieving these same improvements."
"Our cloud-delivered, single database platform is specifically designed for use by rural and critical access hospitals," explained Karl Kiss, Vice President of Sales at RazorInsights. "Our ONC-ATCB compliant solution is delivered through a web browser which eliminates the need to purchase costly software licenses and expensive hardware servers. Our pay-as-you-use services are delivered in real time with seamless upgrades for a low, all-inclusive monthly subscription," Kiss added.
RazorInsights' clients are achieving Meaningful Use at rapid rates via ONE's simple-user interface and single-database delivery system. The system's intuitive design allows administrators and clinicians with limited technical skills to quickly adapt the system's use in their daily workflow. Additionally, ONE's innovative use of cloud technology provides faster implementations, reduces training time and offers seamless upgrades.
About F.W. Huston Medical Center:
Located in Winchester, Kansas, F.W. Huston Medical Center is a 25-bed Critical Access Hospital serving the needs of Jefferson County and surrounding communities. Some of their many services include: Twenty-four hour Emergency and Prompt Care Services, Swing Bed Care, Laboratory, Radiology, IV Therapy, Wound Care and Physical, Occupational and Speech Therapies.
For more information, call 913-774-4340.
About RazorInsights:
Based in Kennesaw, Georgia, RazorInsights is a dynamic healthcare information technology company. In keeping with the principle of Occam's Razor, they have created a simplified HIS solution for Rural, Critical Access and Community hospitals. Introducing ONE (ONC-ATCB 2011/2012) — a single-database, cloud solution offering a simple user experience with cutting-edge clinical tools and industry-standardized data. Hospitals can expect to improve their performance and bottom line with ONE from RazorInsights. For more information, visit razorinsights.com or call 770-308-4111.