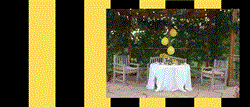 Party ideas come together as a complete, easy-to-use party plan.
Fort Collins, CO (PRWEB) September 25, 2013
Confetti Couture's redesigned blog rolls out a new party plan each week. The debut theme introduces unique and creative bumble bee party ideas. This week on the Confetti Couture blog, these bumble bee party ideas come together as a complete party plan for a birthday party or baby shower.
The blog makes it easy for a hostess to entertain like a pro by organizing ideas for every aspect of the party. Bumble bee decorations, a sweet bumble bee party menu, games and activities that follow the theme perfectly, and all the details come together in a manageable party plan. Free printable downloads bring a polished look to the Confetti Couture party, and links to purchase the party supplies make shopping for the event easy and fast.
The bumble bee party ideas include a free download to transform honey jars into sweet party invitations, as well as printable supply lists and instructions for party games to keep the party buzzing. Entertaining tips and advice are at the hostess' fingertips. It's like having a professional party planner by your side every step of the way.
Saving the busy mom loads of time and stress, Confetti Couture helps any busy hostess pull together a fabulously styled and fun party in record time. Bringing professional party planning to the reach of every hostess, Confetti Couture is the "Virtual Party Planner."
About Confetti Couture
Confetti Couture is an innovative manufacturer selling unique party supplies and bakery goods focused on the modern hostess. Offering an array of products that give the hostess a sophisticated, but playful edge on entertaining, Confetti Couture's hand designed art is what sets their products apart from the usual and expected party goods and brings personality to the party. The Confetti Couture website is a complete and creative planning resource for hosting a wedding, party, or any other event. http://www.confetticouture.com/.