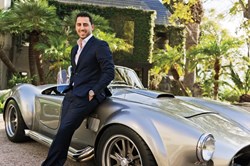 Now is the best time in history to be profiting from real estate!
Phoenix, AZ (PRWEB) September 26, 2013
Cody Sperber, who is known to many as the "Clever Investor", is hosting one of his famous real estate investing VIP Mastermind events and is bringing in celebrity real estate agent, Josh Altman, to share some of the business systems that have helped him become one of the hottest up and coming real estate superstars in Beverly Hills. On average, Josh and his brother Matt Altman close over $200,000,000 worth of transactions each year, and Josh has quickly become one of the top producing real estate agents in the country. Josh started his career by flipping houses, then decided to get his real estate license. Through hard work and determination, Josh has dominated the Los Angeles housing market by representing some of the biggest celebrities and socialites in the world.
"I am excited to have someone as experienced as Josh come and speak at my event. I believe there has never been a better time than right now to invest in real estate, and Josh represents a fresh perspective to this business. His networking and negotiating skills are legendary and I believe his advice will help our students become better closers and get more deals," says Cody Sperber, CEO of CleverInvestor.com. "With Josh involved in my mastermind event, Clever Investor will further enhance our goal of providing world class real estate education that is systematized, entertaining and affordable."
Learning how to invest in real estate has never been more simple or more organized. Clever Investor is a real estate investing educational company that provides both new and experienced investors with business and marketing systems as well as cutting edge analysis and marketing software. Having Josh appear at Cody Sperber's VIP Mastermind Event will increase brand awareness across a new demographic of younger real estate investors. "We only hold these events a couple of times a year, and each event we try to bring in the biggest and best talent in our industry...Josh Altman is just the caliber of real estate entrepreneur we were looking for," explains Cody.
If you are interested in coming to Cody Sperber VIP Mastermind, visit http://www.CodysVIPMastermind.com.