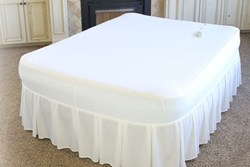 Utah (PRWEB) September 26, 2013
Starting on Sept. 24, AirMattress.com is launching the second Superior Sleep Seasonal Giveaway, offering people the chance to win a Fox Airbed Signature Memory Foam Queen Air Mattress by entering on AirMattress.com's Facebook page. The contest will run until Nov. 11 when a winner will be announced and given the prize.
Those interested can enter the contest on AirMattress.com's Facebook page by clicking on the giveaway app. This prompts contestants into "liking" the page and then submitting an email address where they can be contacted. From these emails a winner will be chosen at random.
Every season, AirMattress.com runs a giveaway campaign for its customers. During the summer season, AirMattress.com gave away a camping kit which comprised of a camping air mattress, external pump and lantern. The winner for that giveaway was announced on Sept. 9.
This time around, customers will have the chance to win a Fox Airbed Signature Memory Foam Queen Air Mattress. The Fox Signature Memory Foam is consistently one of AirMattress.com's best-selling air mattresses. It features a 25-inch height, 1-inch memory foam topper and high output pump.
Sales for guest beds increase in the months preceding Thanksgiving and Christmas. Out of the total sales, guest beds will make up 90% of the air mattresses sold on AirMattress.com. The Fox Signature Memory Foam ranks fourth out of all the air mattresses sold.
"This is one of our busiest times of the year for selling guest beds. Two of the biggest fears people have about air mattresses is if they're comfortable for guests and if they'll hold air. Most of the time, guests won't relay this information back to their hosts," explained Peter McClellan the General Manager at AirMattress.com. "That's why we wanted to give away one of the best, to show there are air mattresses that meet these criteria."
Of course, the increase in guest bed sales relates to the upcoming holidays. In addition to the giveaway, AirMattress.com plans to help their customers prepare for the hosting guests.
"This season we will be giving out hints and tips about keeping guests happy to help our customers," stated McClellan.
People can expect these tips to be posted on AirMattress.com's blog and other social media sites.
Giveaway entries must be submitted by residents of the United States who are currently at least 18 years of age. Any entries that fail to meet these criteria will automatically be disqualified.
About AirMattress.com
AirMattress.com offers a wide variety of top quality airbeds from six different brands. Each product is provided with a custom review from the specialty site as well as a warranty. AirMattress.com is the best place to find demonstration videos, customer reviews and detailed photos of the product prior to purchase. Customer satisfaction is the top priority, providing the best customer service and only the best airbeds for a great night's sleep. For more information please visit http://www.airmattress.com or call us toll-free at 1-800-378-5817.