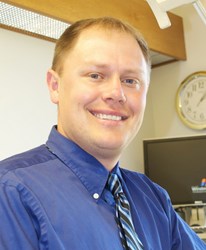 Dental decay is the most prevalent health care issue in our country.
Green Bay, WI (PRWEB) September 26, 2013
In a recent survey released by the American Dental Association, the number of people who seek dental care on a regular basis has declined. Among adults, the percent with a dental visit in the last 12 months decreased from 41 percent in 2003 to 37 percent in 2010. Six out of ten participants surveyed cited rising cost and lack of insurance as primary barriers.
"It's a shame," said Dr. Aaron Bushong of Neighborhood Smiles in Green Bay, "totally unacceptable. Dental decay is the most prevalent health care issue in our country, yet six out of 10 people fail to visit the dentist until it is too late."
To combat this growing and disturbing trend, Dr. Bushong has begun to accept and participate in a number of additional dental-health insurance plans. His office now participates in UHC United Healthcare, Delta Premier, Cigna, and Humana. These plans are provided by quality employers in the Green Bay area, including Georgia Pacific Paper, Aurora Health Care, St. Mary's, and St. Vincent Hospitals. He said rising healthcare costs and the attention on insurance reform have played a major part in keeping people away from seeking quality dental care.
"Our patients are amazing," he says. "It is a pleasure to work with them and provide a lifetime of healthy smiles!"
Dr. Bushong and his team provide general and cosmetic dentistry in the Allouez, DePere area of Green Bay. Services include preventive care, Invisiline®, Invisiline Teen®, Six Month Smiles®, and implant tooth replacement.
About Dr. Bushong and Neighborhood Smiles:
A native of Rhinelander, WI, Dr. Bushong has lived in Wisconsin his entire life. He completed his undergraduate studies at UW-Milwaukee and practiced dentistry in Central Wisconsin. Dr. Bushong attended UW-Milwaukee on an athletic scholarship where he had the opportunity to participate in two NCAA Tournaments, as a member of their baseball team. He was also a member of the Wisconsin Woodchucks, who play with the Green Bay Bullfrogs in the Northwoods League. Now he provides dental services in Green Bay, Wis., at Neighborhood Smiles. For more information about Neighborhood Smiles, visit http://www.smilesgreenbay.com. The site also provides dental information, advice, and blog posts. Neighborhood Smiles can also be found on Facebook and Twitter.
American Dental Association Study Reference link: http://www.ada.org/sections/professionalResources/pdfs/HPRCBrief_0213_2.pdf