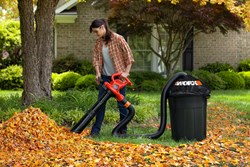 Charlotte, N.C. (PRWEB) September 25, 2013
Fall, when leaves turn into brilliant colors, is one of the prettiest times of the year. But once the leaves hit the ground, the rakes come out and the work begins. WORX has a better solution. A blower/mulcher/vac has the time-saving ability to herd, then shred, leaves into mulch for the garden, compost bin or curbside pickup. Bulky leaves and debris that normally take numerous bags to fill by hand are reduced to only a few bags using a blower/mulcher/vac, saving hours of back-breaking work.
LeafPro goes a step further. It connects to any blower/mulcher/vac through the use of factory-fit adapters, combined with a 4-in.-diameter, 8-ft. hose with a diameter up to 16 ft. One hose end fastens to the vac adapter, while the other end feeds into an elastic circular, nylon cover. The cover is designed and engineered to fit snugly over the rim of 32- to 96-gallon outdoor containers, and then cinch tied. Power on the vac, and a massive leaf pile is channeled through the vac and hose and then into the container.
"For anyone who owns a blower/mulcher/vac, LeafPro solves the six-step dilemma of empting the bushel bag every time it's full," said Brandon Martin, WORX Product Manager "There's no more taking off the strap, unzipping the collection bag, shaking out the bag, rezipping the bag and placing the strap back over your shoulder."
When choosing a blower/mulcher/vac, consider WORX TRIVAC 3-in-1 Compact Blower/Mulcher/Vac with 2-stage mulching system. Stage one of the TRIVAC features a high-velocity blade that shreds debris before being pulverized by an all-metal impeller in stage two.
The 18-to-1 ratio results are impressive. For every bag of fine mulch produced by the TRIVAC, homeowners without this yard appliance would haul 18 bags to the curb, garden or compost bin.
The 8.6 lb. combination vac converts from blower to vacuum by simply flipping a switch. No tools are required or tubes to change out. The blower/vac generates a hurricane-like wind of 210 mph, but with its seven-position slide throttle, it also has the ability to cast a gentle breeze when going through delicate flower beds.
The WORX TRIVAC comes with a unique angled tube with a curled tip. This tube design is great for vacuuming leaves in hard-to-reach areas, such as beneath decks, between shrubs, fence lines, behind central A/C systems and other areas, such as the garage
The TRIVAC is powered by a 12-amp motor with a maximum air volume of 350 cfm. The vac is equipped with a one bushel capacity collection bag. The TRIVAC is backed by a three-year warranty.
The WORX LeafPro High Capacity Universal Collection System (WA4054, $39.99) is available at http://www.worx.com and other retail outlets including Walmart.
The WORX TRIVAC 3-in-1 Compact Blower/Mulcher/Vac (WG502, $119.99) is available at http://www.worx.com; through online retailers such as Amazon, Target and Lowes.com; and local professional power equipment dealers.
Like and Follow WORX at https://www.facebook.com/worxus and https://twitter.com/WORXTools .
The WORX LeafPro High Capacity Universal Collection System fits Black & Decker, Toro, Craftsman, Husqvarna, Ryobi and Poulan/Poulan Pro gas and electric blower/vacs and more.