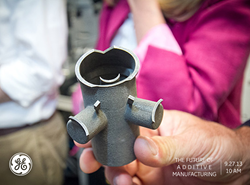 (PRWEB) September 25, 2013
Panel experts will address key questions regarding the future prospects and growth of the additive industry, such as:

What changes and challenges do you foresee as additive manufacturing goes mainstream?
What types of jobs and skillsets will make up the additive supply chain?
Could additive manufacturing eventually be used to produce very large and complex parts? How large in scale could they go?
Additive manufacturing is a significant disruptive technology. What will it look like 50 years from now? How much could it change manufacturing as we know it?
Following a discussion on these topics and others, the floor will open for an interactive Q&A session with attendees. Viewers can submit questions at http://www.ge.com/research/live/ or via Twitter at #GEResearchLive.
What: "The Future of Additive Manufacturing"
Who:

Moderator: Christine Furstoss, Technical Director, Manufacturing & Materials Technologies, GE Global Research
Panelists:
Avi Reichental, President and Chief Executive Officer, 3D Systems
Terry Wohlers, Principal Consultant and President, Wohlers Associates
Dr. Ryan Wicker, University of Texas at El Paso
Rob Gorham, Deputy Director – Technology Development, National Additive Manufacturing Innovation Institute (NAMII) and National Center for Defense Manufacturing & Machining (NCDMM)
When: September 27, 2013, 10:00AM EST
Where: Please log on to http://www.ge.com/research/live/ on September 27 to join the Google+ Hangout video session.
For more information, please contact Todd Alhart at Todd.Alhart(at)ge(dot)com or at 518-387-7914.