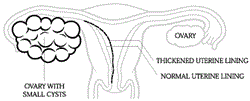 Surprisingly, it is believed that 50% of women with PCOS are undiagnosed.
Rockville, MD (PRWEB) September 27, 2013
On Saturday, September 28, women at every stage of their fertility journey will have the opportunity to learn the causes and symptoms associated with PCOS, treatment options, ways to control stress and the weight gain often that are often associated with Dr. Rachana V. Garde and other staff members.
Polycystic Ovary Syndrome, or PCOS, is a condition in which a woman experiences an imbalance of a female sex hormones. This may lead to changes in the menstrual cycle, the development of cysts in the ovaries, trouble getting pregnant, and other health changes.
PCOS is one of the most common hormonal disorders in women of child bearing age. It is estimated to affect up to 5 million women in the US, representing about 10% of reproductive age women. Surprisingly, it is believed that 50% of women with PCOS are undiagnosed. This seminar, available live and via webcast, seeks to eliminate many of the mysteries about PCOS.
WHAT: PCOS Seminar
WHEN: Saturday, September 28 10am
ITINERARY: Session One: Rachana V. Garde, MD- Understanding PCOS from Diagnosis to Treatment
Session Two: Nicole Holovach, MS, RD, LDN- Planning a PCOS Friendly Diet
Session Three: Fitness and Activity
Session Four: Laura Covington, MSW, LCSW-C- Understanding and Controlling Stress
WHERE: Shady Grove Fertility Center, 15001 Shady Grove Road, Rockville, MD 20850
REGISTRATION:
In Person (limited space): http://www.shadygrovefertility.com/webform/person-pcos-patient-seminar-series
Online: http://www.shadygrovefertility.com/webform/online-pcos-patient-seminar-series
###
About Rachana V. Garde, MD: Rachana V. Garde, MD is a reproductive endocrinology and infertility specialist who practices primarily in our Woodbridge, Virginia office. Dr. Garde completed her undergraduate studies in Biology and Russian Studies at Duke University and received a graduate degree in Infectious Disease Studies from Yale University. She earned her medical degree from the Medical University of South Carolina. Her Internship and Residency in Obstetrics and Gynecology were completed at Barnes Hospital, Washington School of Medicine in St. Louis, MO. Dr. Garde was then awarded a Fellowship in Reproductive Endocrinology and Infertility at Duke University Medical Center. She is the recipient of numerous academic awards and is a member of the American College of Obstetrics and Gynecologists and the American Society of Reproductive Medicine.
About Shady Grove Fertility:Shady Grove Fertility is America's largest and most progressive fertility center performing over 6,000 IVF cycles, including over 1,000 egg donation cycles, and an equal number of ovulation induction and IUI cycles annually. Twenty-nine reproductive endocrinologists as well as PhD scientists, geneticists and 480 highly specialized staff care for patients in 17 full-service offices and 5 satellite locations throughout the Philadelphia, Baltimore, and Washington, DC metropolitan areas. SGF offers a comprehensive range of fertility treatment options including Ovulation Induction, IUI, IVF, and Donor Egg as well as resources to comprehensively address patients' needs - medical, emotional, and financial. For patient convenience IVF retrievals and transfers are now performed at three regional IVF Centers in Rockville, MD, Baltimore, MD and Chesterbrook, PA.