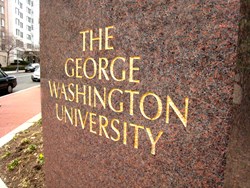 We've just started the competition and already we have potentially thirty-nine new 'cran-vangelists' who I hope at the end of this experience will be 'cran-fans' for life - Scott J. Soares
Wareham, MA (PRWEB) September 26, 2013
US Cranberries representatives announced today the kick-off of a first-ever marketing competition by students at the George Washington University (GWU) who have been tasked to think "out of the bog" and create marketing campaigns aimed at promoting demand for US cranberries amongst 18 to 34-year-olds. The ultimate goal is to encourage consumers to think of cranberries as a versatile and healthy berry year-round.
"We see this as a win-win for everyone. Students are engaged in a real market challenge scenario while the cranberry industry has the opportunity to gain valuable insight into the marketing preferences of younger and future consumers," said Scott J. Soares, Executive Director, US Cranberries. "In fact with over 800 million pounds of cranberries anticipated to be harvested in 2013, I'm more than excited to hear new ideas how we can expand the usage of this very versatile and healthy berry throughout the year."
Participating GWU students are part of an undergraduate advertising course in which students work on a real world project. Thirty-nine students are divided into six teams who work like advertising agencies to compete for the client's business. Throughout the semester, the student teams make three interim presentations to the professor who serves as "coach" for each team.
The marketing competition is being led by Dr. Lynda Maddox, Professor of Marketing and Advertising at GWU with over 20 years of both national and international marketing and communications experience. The campaigns will be judged in December of 2013 when members of US Cranberries – The Cranberry Marketing Committee and members of the cranberry industry will listen to and judge the presentations.
Said Dr. Maddox, "This is a truly unique project because it isn't just for a brand. It's for a whole product category. Students are in the coveted 18 to 34 year-old cohort themselves, and so they have unique perspectives about how to reach and touch this group that will generate lifetime value to the cranberry industry." She added that most students are well aware of the cranberries' health benefits and 50 percent say they eat them every week just because they taste good.
A 2012 Nielson report named 18 to 34 year-olds "Generation C" – the "C" standing for connected. This group makes up 23% of the U.S. population and is the most digitally connected ever. They share their experiences and consume media through electronic devices more than other age group. "Their ownership and use of connected devices makes them incredibly unique consumers, representing both a challenge and opportunity for marketers and content providers alike," Nielsen writes.
Said GWU student Rachel Fensterman, "I am extremely excited to be working with a team to develop a complete marketing communications plan for US Cranberries. There are so many different ideas that can be affiliated with cranberries and I am curious and enthusiastic to see what we can create!"
Krisha Paz, also a participant of the semester-long project said, "Working with US Cranberries takes learning to another level. You apply what you learn in class and in your textbook, right then and there, thus developing our marketing skills. That's what makes this opportunity special for every student participating in this assignment."
Wrote Nichelle Holmes on the back of a recent GWU quiz, "When I first learned that we would be spending the semester working on cranberries, I questioned how much there would really be for us to do. The more I researched cranberries, their benefits, uses, product lines, etc., I realized how much opportunity actually lies in this campaign."
Added Soares, "We've just started the competition and already we have potentially thirty-nine new 'cran-vangelists' who I hope at the end of this experience will be 'cran-fans' for life."
About US Cranberries - US Cranberry Marketing Committee (CMC):
The CMC was established as a Federal Marketing Order in 1962 to ensure a stable, orderly supply of good quality product. Authority for its actions are provided under Chapter IX, Title 7, Code of Federal Regulations, referred to as the Federal Cranberry Marketing Order, which is part of the Agricultural Marketing Agreement Act of 1937, as amended. This Act specifies cranberries as a commodity that may be covered, regulations that may be issued, guidelines for administering the programs, and privileges and limitations granted by Congress. For more information about the CMC, visit http://www.uscranberries.com. Follow at http://www.twitter.com/uscranberries and http://www.facebook/cranbecravers.