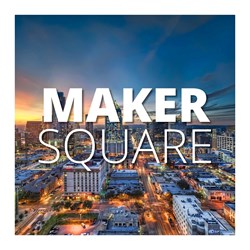 MakerSquare is creating a pipeline of talent. - Josh Baer, Founder of Capital Factory
Austin, TX (PRWEB) September 25, 2013
MakerSquare, an immersive, full-time 10-week web developer bootcamp, successfully launched in Austin this June. After completing the rigorous in-person 10-week program, that culminated in a presentation style showcase of work, candidates of the inaugural cohort have been interviewing and are being hired at various companies in and out of the Austin area.
Jason Watson, a U.S. Air Force Veteran, applied to the MakerSquare bootcamp to gain skills necessary for a career change and was hired after graduation. "I was getting nowhere with my Liberal Arts degree, and was not excited about the options I did have," said Watson who received a job offer from Communication Services for the Deaf, 13 days after completing the bootcamp. Watson spoke of the booming tech scene in Austin saying, "It was impossible to ignore but [before attending MakerSquare] I had zero of the knowledge or experience needed to get my foot in the door."
Based on past reports over the next decade an average of 40,000 students will graduate annually with a degree in computer science. Employment for computing jobs is expected to grow by 30 percent creating nearly 1.2 million jobs by 2020 due to a large increase in the demand for computer software. "MakerSquare is creating a pipeline of talent," said Josh Baer, Founder of Capital Factory. "Their students have the right skills that startups and high-growth tech companies need to grow their teams."
MakerSquare is helping students by providing a viable career path with boundless opportunities. "We take incredibly motivated individuals to the next level and give them the skills they need to enter the tech workforce," said Harsh Patel, MakerSquare Co-Founder. "Our graduates have been hired across the country."
Salary for a MakerSquare graduate ranges from $60,000 to $75,000 to date. Graduates of the 10-week developer bootcamp have been interviewing and/or hired by companies like CabForward, ReturnPath, Spiceworks, Communication Services for the Deaf and PeopleAdmin.
Applications are being accepted for the November 2013, January and February 2014 sessions in Austin and Dallas, TX. Housing is available for students relocating from out of area for the bootcamp. Interested applicants can find more information at http://themakersquare.com/.
About MakerSquare
MakerSquare is a full-time, 10-week web developer bootcamp that launched in June 2013. Located in the heart of Austin's booming tech scene, MakerSquare is educating aspiring web developers in Javascript, Ruby on Rails, Git and more. Our small class size of 15 students and 1:6 student-teacher ratio provides experienced instructors and mentors to students who gain real-world skills. Students are taught through immersive learning techniques that are hands-on, project based and career focused. The MakerSquare advisory board includes respected members of the Austin tech scene: Joshua Baer, CEO Capital Factory, Jay Manickam, CFO uShip and Damon Clinkscales, Founder of Austin on Rails. At MakerSquare, we teach what employers wish their hires came in knowing.