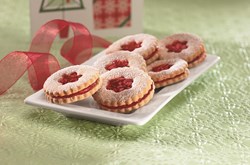 Swiss Colony's gluten-free food products give customers a choice when planning what to serve for dessert.
Monroe, Wisconsin (PRWEB) September 30, 2013
There's a growing need among consumers with dietary challenges to source gluten-free products. In response, The Swiss Colony http://www.swisscolony.com has added ten tasty desserts that are gluten-free for shoppers who have been searching for food gifts either for friends and family with gluten restrictions or even as a special treat for themselves.
"Our customers were requesting gluten-free options and we saw an overall need in the marketplace for baked goods without gluten that also had a great flavor and texture," says Becky Henke, VP of Food at The Swiss Colony. "Sales have already taken off for our gluten-free line so we know it was a good decision to give our customers additional dessert choices."
The Gluten-Free Raspberry Linzer Cookies ($19.95) are the number-one selling product among Swiss Colony's gluten-free offerings. Raspberry jam peeks through the sweet buttery cut out sugar cookies that are dusted with powdered sugar. They are as pretty as they are delicious.
Another top seller is the Cranberry Pomegranate Crunch ($16.95), featuring the tangy dried fruit, oven-baked almonds, cashews and pistachios. It makes a fantastic snack and also comes in additional flavors, Blueberry Pomegranate and Almond.
Gluten-free Pumpkin Cheesecake ($49.95) makes this a stand-out dessert perfect for parties. Pure cream cheese and farm-fresh ingredients are irresistible. There is also a Strawberry Cheesecake and a traditional New York Cheesecake too.
Rounding out the gluten-free dessert selections are Chocolano Cookies ($19.95) and Gluten-Free Brownies ($19.95) for those who love chocolate.
To see all of the Gluten-Free desserts and the entire collection of Swiss Colony's baked goods, chocolates, candies, meats and cheeses, shop online at http://www.swisscolony.com.
About The Swiss Colony
The Swiss Colony is a family-owned Wisconsin company that has been creating food gifts for more than 87 years. The company insists on the highest quality ingredients for a large selection of festively packaged gifts for every occasion. Exclusive recipes developed by European Master Bakers and hand-decorated novelties like no other are just two of the reasons customers include The Swiss colony as part of their holiday traditions year after year.
Join in the conversations at facebook.com/theswisscolony and @TheSwissColony and pinterest.com/theswisscolony/.