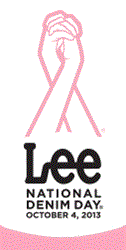 WEST PALM BEACH, FL (PRWEB) September 30, 2013
Amid a strictly professional office environment marked with a year-round formal business dress code, the law offices of Steinger, Iscoe & Greene will be continuing a 5-year-long tradition of dressing down to raise awareness and resources for breast cancer research. Friday, October 4th, every partner, attorney, and legal professional will dawn blue jeans for Lee National Denim Day, Home/Index a cause whose purpose reaches far beyond 'business as usual' into the lives and hearts of breast cancer survivors, fighters and their families.
Lee's National Denim Day is entering its 17h year of asking companies to 'go casual for a cause,' and, according to the Lee Denim Day website, has raised more than 89 million dollars in the fight against breast cancer. Donations help The American Cancer Society provide life-saving screenings in communities' nationwide, hope and care to those traveling for cancer treatment and investments in groundbreaking cancer research.
Breast Cancer continues to affect the lives of both men and women, with about 230,000 women who will reportedly be diagnosed with invasive breast cancer in 2013, 40,000 of which will not survive the disease according to the American Cancer Society.
The law offices of Steinger, Iscoe & Greene have always prided themselves in taking on causes that matter to them, such as the Special Olympics, Guardian ad Litem, Speak Up! for Kids and even founded the Steinger Kids Foundation. Over the years the firm has supported its legal staff as they personally fought and won against breast cancer. Steinger Iscoe & Greene will proudly support this worthy cause and continue to fight alongside others until a breast cancer cure is found. For more information, or to learn how to participate in Lee Denim Day visit http://www.DenimDay.com
About Steinger, Iscoe & Greene
Since 1997 Steinger, Iscoe & Greene has served the Florida community as one of the state's leading plaintiff personal injury law firms. A legal team of 30 attorneys and 120 legal professionals to date, the firm takes pride in the fact that they represent individuals and their families – not big business interests. With offices throughout the state – Miami, Fort Lauderdale, West Palm Beach, Port St Lucie, Fort Myers, Okeechobee and Orlando – Steinger, Iscoe & Greene's goal is to achieve maximum recovery to afford clients and their families the resources necessary to put the pieces of their lives back together after an accident or sudden injury. The firm considers it a privilege to help injury victims through some of life's most challenging and uncertain times. Day or night, Steinger, Iscoe & Greene is available to injury victims to answer any legal questions.
For more information, visit http://www.InjuryLawyers.com