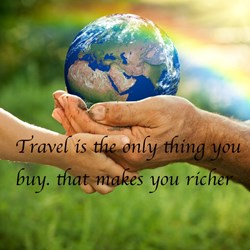 (PRWEB) September 26, 2013
South Korea has become increasingly popular as a vacation spot year after year, with over 11.1 million tourists visiting just last year. The capital of Seoul features a beautiful fusion of both ancient and contemporary locations that will unquestionably captivate travelers of all likes. There is something for everyone in this 600-year-old city; those that gravitate towards ancient sites will be happy to know that Seoul has an abundant variety of primordial temples, palaces, and villages. On the modern metropolitan side Seoul features an ample array of sites that attract millions of tourists each year. Visit MyeongDong Nanta Theatre for instance, and be ready to be wowed by Korea's longest running show to date, a non-verbal musical that leans on the comical side; it is sure to entertain the whole family. History buffs will be eager to visit the War Memorial of Korea which features touching exhibits, war memorabilia, works of art, and military equipment including displays of actual tanks and airplanes. Book with FlyBusinessCheap.com to see luxury flights to Seoul, Korea starting at just $3,547.
A trip to Munich, Germany will set anyone in awe as they navigate through Germany's third largest city. Tourists can literally navigate the city with its famous views and landmarks from a bird's eye view by boarding the Heliflieger helicopter tour which even offers custom tours upon request; tourists can fly over the Alps, view the Western Lake District, and even view Munich's famous landmarks all in one flight if they so choose to. After finishing such a mesmerizing helicopter tour, visitors may decide that an up close and personal tour of the Munich's landmarks is in order, and so a visit to Marienplatz may deem appropriate. Marienplatz is Munich's largest public square and stands as the center of social activity in the city with the New City Hall overlooking the square with its central clock tower which features medieval knight figures that come to life at 11: 00 am and 5:00 pm every day. Of course don't forget that Munich's world famous Octoberfest beer festival is being held right at this moment; book a flight now before the festival ends on October 6th. FlyBusinessCheap.com is offering luxury flights to Munich, Germany that start at just $2,634.
Have a taste of old world architecture and tradition by visiting Delhi, India. The capital is abundant with history and features sites that seem out of this world. Full of fascinating mosques, forts, and monuments left over from the Mughal rulers that once occupied the city, Delhi is an experience to be never forgotten. The city is divided into two regions: Old Delhi and New Delhi, with an immense contrast between the two regions. Delhi's most famous monument, the Red Fort, reminds all of the Mughal emperors who ruled India at the time. Its walls which were built in 1638 to keep out invaders stretch out for over 1.2 miles. Each evening a one-hour sound and light show takes place reenacting the fort's history. Venture on to New Delhi and be ready to be dumbfounded by more astonishing historic landmarks. A visit to Humayun's tomb might bring about some feeling of déjà vu. One may conjure up thoughts of the Taj Mahal when gazing at Humayun's tomb, and for good reason; it was in fact the inspiration for the Taj Mahal's creation. Built in 1570, it houses the body of the second Mughal emperor and served as a template for future architecture all over the country. Have an adventure of a lifetime by visiting this historically rich city; book with FlyBusinessCheap.com and get the deal of a lifetime as well. Luxury flights to Delhi, India start at only $3,654.
FlyBusinessCheap.com absolutely guarantees the lowest fares on the market for international first & business class flights and they work exclusively with the world's finest airline companies.
Give them a call and you will be routed directly to one of the 100+ luxury flight specialists available in any one of three office locations in San Francisco, New York, or Chicago.
Look no further than FlyBusinessCheap.com for the easiest, fastest, no-hassle discount luxury flights.