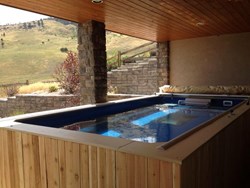 Having the pool a minute away never gives us an excuse and has made us much more efficient.
(PRWEB) September 25, 2013
Greg and Laura Bennett, two of the premier triathletes in the world, recently installed an Endless Pool® at their home in Colorado.
Neither Bennett is a stranger to the elite world stage, as both have competed in the Olympics and won major international events.
For triathletes, finding training time can be an uphill battle. Whether a professional or a novice, the ability to maximize time is of utmost importance.
The couple made the choice to start swim training at home as they tired of the extra effort of driving to a public pool.
"We decided to add an Endless Pool to our home because we love the convenience," said Laura, a 4-time World Championships medalist. "Training three sports a day, swimming often gets sacrificed because it is such an effort to drive down to the pool once you are so tired from the bike and run."
Greg and Laura already have seen their addition pay off, as they use the Endless Pool nearly everyday to fine-tune their swim strokes.
"Having the pool a minute away never gives us an excuse and has made us much more efficient," said Laura.
While a run or a bike can be had in a pinch, a swim can be a major challenge for training. A standard pool doesn't allow for an open water feel, with constant flip turns.
The daily opportunity for challenging stroke training and open water simulation is only possible at home with an Endless Pool.
The Bennett's new backyard pool will receive plenty of use, as the couple continues to train for contention at the highest levels of triathlon.
"We believe it is a great tool for everyone— from the weekend warrior trying to be efficient with their time and stay in touch with the swim as much as possible—to the professional triathlete and swimmers who want to develop all facets of their stroke."
ABOUT ENDLESS POOLS:
Endless Pools, established in 1988, has served over 20,000 customers worldwide, and offers compact, customizable pools and swim spas for indoor or outdoor use. With a series of innovative products and an adjustable, fast, smooth swim current, the product can be tailored for training, rehab or family fun. Low-maintenance and environmentally friendly, Endless Pools has a product to meet virtually any need, from the novice swimmer to the competitive triathlete.
For more information, visit http://www.endlesspools.com or contact Rob Shaeffer at 610-497-8676.