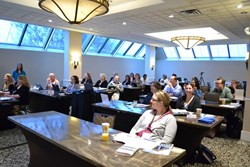 This is a must-attend conference for anyone who is serious about applicant tracking.
Lakeville, MN (PRWEB) September 26, 2013
ImageTrend, Inc. has announced the return of the HireTouch E3 Conference is scheduled for June 16-17, 2014 at the Hilton MSP Airport/Mall of America in Bloomington, Minn. The company hosts the conference for users of its HireTouch recruiting and onboarding solution as an opportunity to turn daily users into product experts. The conference will feature interactive sessions, social networking and exclusive presentations from ImageTrend professionals and experts from the field.
"I thought this was a great opportunity to for users to get together and share their thoughts and concerns. This is a must-attend conference for anyone who is serious about applicant tracking," said Ken Scott, Manager, HRIS at University of Illinois at Chicago.
The conference brings together human resource professionals from across the U.S. to experience hands-on learning and in-depth discussions about compliance, EEO reporting, the future of HR and more. The educational sessions focus on the use of ImageTrend's HireTouch solutions and provide attendees with valuable skills and knowledge to take back to their organizations. Attendees will also receive a sneak peek into the future of HireTouch and have the opportunity to experience enhanced feature sets.
"The networking possibilities are endless. I made a lot of contacts and will use these contacts as future resources," said Sylvia Velasquez, Oakland Community College.
The 2014 conference will be held in the same location as the 2013 HireTouch E3 Conference. The conference location offers convenient access to ImageTrend's corporate office, as well as to Minneapolis and St. Paul.
Visit http://www.ImageTrend.com/E3 to view photos from the 2013 E3 Conference, where attendees were able to connect with users from throughout the country and share information about unique uses of the software. More details and registration information will be available on ImageTrend's website and announced to newsletter subscribers when it becomes available.
About ImageTrend, Inc. http://www.imagetrend.com
ImageTrend, Inc. is an award-winning software company in Lakeville, Minn., devoted to maintaining a high level of innovation, excellence and quality in its products, service and community. ImageTrend's Web-based applications serve a variety of industries, including government, medical, human resources, business, education and non-profit organizations. ImageTrend combines business analysis, creative design and database-driven architecture to offer the best web applications and strategies.