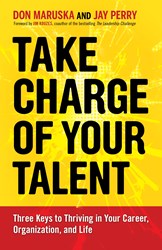 Morro Bay, California (PRWEB) September 30, 2013
Most of us don't even come close to using our talents fully. Even high performers in excellent organizations report that 30 to 40 percent of their talent goes untapped. And that's a high cost in terms of productivity, innovation, and employee satisfaction.
Don Maruska and Jay Perry are out to change that.
From Sept. 30 to Oct. 4, the two are hosting a special campaign with their new book, "Take Charge of Your Talent: Three Keys to Thriving in Your Career, Organization, and Life" (Berrett-Koehler Publishers, ISBN 978-1609947231), published in January.
"Take Charge of Your Talent" provides three keys to full self-expression: power up your talent story, accelerate through obstacles, and multiply the payoffs by creating talent assets and a "take charge" culture.
"Each of us is born with a wealth of assets in the form of our individual abilities," says Maruska, of Morro Bay, Calif., who is director of the Cal-ICMA Coaching Program. "There is tremendous power when we express ourselves fully and joyfully—within our lives, within our organizations, within the entire world."
A highlight of the launch activities is a one-hour webinar featuring the authors and special guest Jim Kouzes, co-author of "The Leadership Challenge." The webinar is offered free of charge and will be hosted by Becky Robinson of Weaving Influence.
"We see our passion for talent as more than a business opportunity. We're out to create a movement. This launch gives us the platform for an outreach campaign to promote that movement," says Perry, of Charlottesville, Va., who brings a background in professional theater to his coaching and workshop direction. Like Maruska, he is a Master Certified Coach.
Their belief in the power and potential of this movement has led them to develop what they call their 20/20 Vision: By the year 2020, 20 million people or more, across 20 countries, will have the keys to take charge of their talent, with at least 20 percent of these people being from traditionally underserved populations such as those in prisons, inner-city schools and developing countries. By their count they are off to a good start, having already reached several thousand individuals in 12 countries.
The innovative approach of "Take Charge of Your Talent" is already being hailed by a variety of business leaders. Denny Marie Post, senior vice president and chief marketing officer of Red Robin International, says, "All too often, I hear promising young talents speak of being 'lucky' in their careers. I hate that. You make your own luck by knowing your strengths, embracing risk, and leading change. This book has the keys to unlocking what makes you thrive so that you can give voice to your ambition with authenticity and purpose."
Michael Ray, author of "Creativity in Business" and professor emeritus at Stanford Business School, sees the potential for widespread influence: "This book provides a distinctive, brilliant structure. If you add your passion and discipline, you can't imagine what you and your team, organization, family, and community will achieve."
To follow launch activities and learn more about the authors and the "Take Charge of Your Talent" movement, visit http://www.takechargeofyourtalent.com.