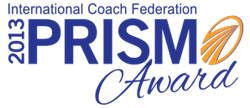 Coaching increases market performance including revenue, profit, market share and customer satisfaction.
Seattle, WA (PRWEB) September 26, 2013
The ICF Prism Award represents the pinnacle of what professional coaching can accomplish at the organizational level. This event will showcase how coaching can benefit organizational goals and will also allow attendees the opportunity to network with the best of the best! The nominees will share their best practices and demonstrate how coaching has transformed targeted employees and created an impact on business results.
Sharing the podium is Kevin Oakes, CEO of i4cp, to highlight information from i4cp's new report, "How High-Performance Organizations Accelerate Executive Leadership Development." This report demonstrates that as a development tool, coaching has a high correlation to market performance—defined by revenue, profit, market share and customer satisfaction.
Nominees - Preview Highlights:
Microsoft: Implemented in 2008, Microsoft's coaching program has changed the lives of 1,800 Microsoft leaders. It is a global enterprise initiative targeted at the most promising senior level talent at Microsoft with a focus on retention. The purpose of the coaching program is to build leadership skills and develop strategic thinking. According to management sponsorship, the results of the coaching program have shifted leadership mindsets from "transactional to transformational."
PEMCO: Launched a comprehensive Talent Development Program in 2012 to address the development of high potential employees and create leadership readiness at all levels in the organization. A unique aspect of the program includes a self-nomination process encouraging employees to step forward to participate. The program supports PEMCO's performance culture focused on collaboration, accountability and trust. Coaching has become a "competency" in the performance culture. It has changed the culture.
Philips Imaging Systems Sales: Implemented a leadership coaching program that was part of a broader initiative called Leadership 2.0. Its purpose was to develop a culture in which employees are coached to expand potential, shift the leader role away from consulting and into development, and support leaders in strengthening their coaching skills to create a coaching culture. Results of this coaching initiative include leadership retention and an increase in leadership behaviors that contribute to job promotions.
The Prism Award Recipient will be announced at the end of the presentations.
The ICF Washington State Chapter inaugural Prism Award Ceremony will be held October 22, from 5:30-9:30 pm at FareStart Restaurant, 700 Virginia Street, Seattle, WA 98101. Dinner at FareStart will include appetizers and a three course meal.
Purchase individual tickets, tables for 5 or 6, or table sponsorship opportunities that include event recognition. To purchase tickets go to Prism Event.
Pending ICF CCE units
Pending SHRM HRCI credits
Thanks to event sponsor - inviteChange!.