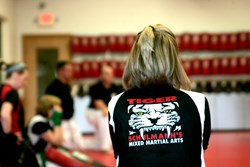 The difference between aerobic kickboxing and authentic kickboxing is: with authentic kickboxing, you learn the actual techniques while getting a workout. You will also be less prone to injury when learning proper technique.
Princeton, New Jersey (PRWEB) September 26, 2013
One of the hottest trends in the fitness world is, cardio kickboxing and the trend is spreading like wildfire. Numerous fitness publications, list kickboxing classes as the top calorie burning activity, topping the charts at over 800 calories burned per hour. Kickboxing has burns through fat and tones muscle with a full-body workout coupled with the added bonus of learning self defense. Kicboxing increases strength, flexibility and endurance.
In the Princeton, New Jersey location, Tiger Schulmann's offers, "authentic" kickboxing. Dozens of professional kickboxing champions train as students at Tiger Schulmann's. They compete throughout the U.S., including at the UFC level.
Tiger Schulmann's Director of Marketing, Alon Feder, states, "With most kickboxing programs, you are not learning authentic techniques, but moves which approximate real kickboxing. You get the aerobic side of the training, but not all of the benefits. We teach the real techniques, actual moves that the professionals use. The authentic techniques are more effective, provide better fitness, and they also prevent students from sustaining injuries which can result from incorrect technique."
The web-only special includes a free kickboxing class, a complimentary pair of training gloves, plus a $50 savings certificate for the Princeton, New Jersey location. The offer can be found on: http://www.princetonmma.com/kickboxing-classes/.