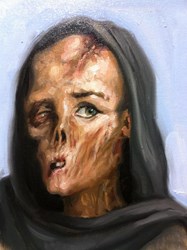 ...marvelously original...eminently readable..M.T. Vasudevan Nair, Globally Acclaimed Author & Award Winning Movie Director
(PRWEB) September 26, 2013
"The Jewish people waited one thousand years for a prophet," says Dr. Theckedath Mathew, "but when he came, they didn't see him." The world has had to wait twice as long to finally learn the truth. Were the words Jesus spoke the result of divine intervention? Where was Jesus between the ages of thirteen and thirty-one? Joshua: The Odyssey of an Ordinary Man is an epiphany to one of the most compelling mysteries in human history as it tells the story of a Jewish carpenter and complements the missing pages in the New Testament. Incensed by cruel Mosaic laws and horrified by the atrocities of the Pharisees, 15-year-old Joshua leaves Israel on a journey that takes him from Galilee to the great library of Alexandria, and to Rome, Athens, Babylonia, Taxila, and finally, to a small hermitage in Mathura. After gaining invaluable insights from the philosophers of the East and the thinkers of the West, he courageously returns home at the age of thirty to speak his mind about the afterlife and to share a new philosophy of consciousness: the meaning of man's sojourn on this earth. While many believe Jesus was the true Son of God, the author argues that with perseverance, an ordinary man could have accomplished the same deeds and exhibited similar wisdom. Dr. Mathew skillfully takes the reader back 2,000 years in time to an ancient world, and the people come alive as he proves his theory beyond doubt, step by step, leaving us amazed. This fascinating and absorbing subject has never been researched in such depth until now.
About the Author
Born to an Orthodox Christian family in a Hindu culture, Dr. Theckedath Mathew secured several postdoctoral diplomas in Western Medicine and a doctorate in Eastern Philosophy.
As a cardiologist, he has lived and practiced in four continents of the world, which gave him the unique privilege of mending the hearts and touching the souls of several thousand fellow human beings. Author of the Treasures of the Heart, a nonfiction medical book. He is also a teacher, historian, public speaker, and television commentator. Although his profession involves fixing the broken heart, it was his passion to comfort the soul that inspired him to write Joshua: The Odyssey of an Ordinary Man.
Joshua: The Odyssey of an Ordinary Man
Publication Date: March, 2013
Trade Paperback ISBN 978-0-9887130-2-4
Ebook ISBN 978-0-9887130-1-7
Available: Amazon, Lightning Source, Baker & Taylor & Ingram
Members of the media who wish to review this book may request a complimentary paperback copy by contacting the publisher at (972) 965-1007.