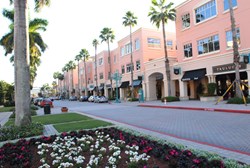 (PRWEB) September 25, 2013
CharityDine.com, an industry leader in connecting restaurants and patrons for the benefit of charity, has established a strong presence in Mizner Park, a central meeting place for entertainment and business in Boca Raton Florida. A primary example of CharityDine.com's Mizner Park partners is Villagio, a high end Italian eatery that caters to many of the website's higher net worth clientele. CharityDine.com, as part of a routine survey, has received great feedback from its membership, many of whom have come to the website by virtue of their charity partners sending emails to their many philanthropic contributors.
Customers are motivated to spend their money at these locations after purchasing 60% off dining certificates from Charitydine.com. Unlike Groupon and Livingsocial, CharityDine.com protects its restaurant partners with minimum purchase and gratuity requirements, which is why their program has been widely accepted by south Florida restaurants and soon launching in Philadelphia.
"My family and I really enjoy dining at Villagio in Boca Raton. The food is fantastic and service is great every time. Thank you Charity Dine for introducing us to this lovely restaurant that we had never been to and since have told many of our friends," said Monica G of West Palm Beach.
Other restaurants that Charitydine.com partners with at Mizner Park are Kapow Noodle bar, a popular Asian fusion restaurant and Karma Sushi Steakbar, serving sushi and classic steakhouse cuisine. These restaurants are just three of the 200 dining spots offered by Charitydine.com in south Florida, that directly benefit charitable foundations, because 15% of the sales proceeds from every certificate purchased from the site is donated directly to charities like American Lung, Hospice, Diabetes Research, Autism Speaks and others.
Executive Director of Peggy Adams Animal Rescue League, Rich Anderson, is a beneficiary of the group of Charity Dine. "We are extremely diligent when approached with a fundraising or cause marketing opportunity," said Mr. Anderson. "Because of the League's strong brand awareness in the community we are presented with these opportunities almost daily. Our partnership with Charitydine.com has been one of the most beneficial promotional programs we've ever entered into…easy, seamless, and completely transparent. CharityDine is truly a win-win-win program for the animals, for the socially conscious public, and for participating restaurants."
For further information, contact: http://www.charitydine.com